More than 6,000 Falun Gong (also called Falun Dafa) practitioners from around the world held a march in Washington D.C. on Wednesday, June 20, to draw attention to the 19-year persecution of Falun Gong in China and to call for support in bringing about its end.
Led by the Tian Guo Marching Band, the march took off from Capitol Hill, traveled along Pennsylvania Ave., Constitution Ave., and ended at the Washington Monument.
Practitioners in the march carried pictures of those who lost their lives during the persecution, while others carried banners calling upon the public to recognize the evil nature of the Communist Party.
The practitioners' message was warmly echoed by spectators and passersby.
Ms. Zhang from Beijing said she was deeply moved and stirred by the truth revealed in the march.
"Any Chinese would be shocked by it, because you cannot see this in China." she said, "But it is important for Chinese people to know the truth."
"Truthfulness-Compassion-Forbearance is the universal value," she added. "Everybody would agree."
Many passersby said that they believe that it is important to expose the true nature of the Communist Party.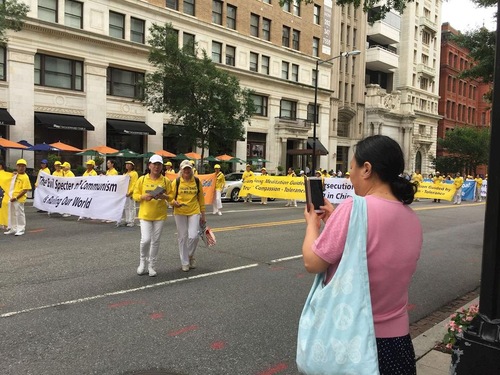 Falun Gong Practitioner: "I hope everybody will pay attention to the persecution."
Fourteen-year-old Tian traveled from England to play in the Tian Guo Marching Band. He has played clarinet in the band for six years. Tian has performed in similar marches in England, Germany, France, and America.
"Performing clarinet in these marches is fun," he said. "More importantly, it helps to raise public awareness of the persecution."
"I am glad to see that people like our performances," he added. "They smiled and applauded."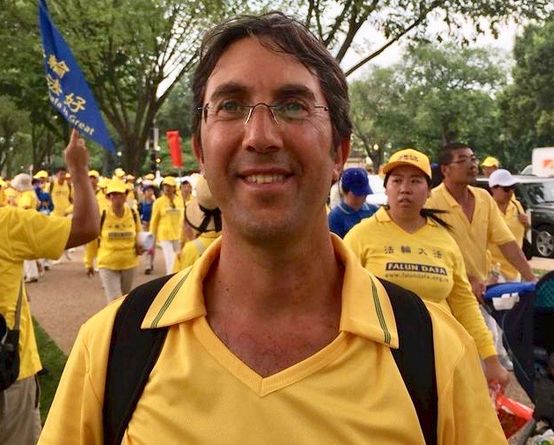 Elad, a high school teacher from Israel, said that the reason he took part in the march was to let more people know about the persecution.
"The persecution is sustained by the Communist Party's lies. It is against humanity. We should not keep silent," he said. "We cannot live in peace, do business with China, and ignore the human rights crisis [there]."
Elad has practiced Falun Gong for nine years. He tells his students that if everyone followed Falun Gong's principles of Truthfulness-Compassion-Forbearance, the world would be a better place.