Falun Gong practitioners in Melbourne gathered in front of the State Library on July 14, 2018, to raise awareness of the 19-year-long persecution against the practice in China. Numerous elected officials and community leaders spoke at the event, praising the Falun Gong practitioners' efforts to help stop the persecution.
According to Mr. Fan from the Falun Dafa Association in the State of Victoria, at least 4,200 practitioners have lost their lives as a result of torture during police custody since the persecution started in July 1999. Because of the information blockade, the real number is most likely much higher.
"More than 600 Falun Gong practitioners have been arrested this past May alone, as documented on the Minghui website," said Mr. Fan, "Our event today is to inform the public that the suppression still continues as of today. We hope more people will step forward to help end it."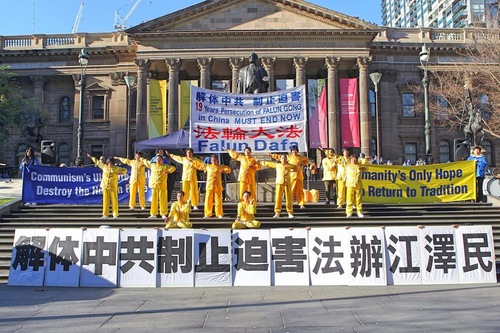 Senior Liberal Party Member: Communist Party Needs to Stop the Suppression
Andrew Bush, a senior member of the Australian Liberal Party, is also a human rights advocate. He said that when a Falun Gong practitioner is imprisoned, his parents, spouse, children, other relatives, coworkers, and neighbors are also negatively affected.
He said Falun Gong practitioners are the kindest and most warmhearted people he has seen. And that the communist party needs to rethink what it has done and stop the suppression immediately, he added. He said that we have all witnessed the downfall of communism in Eastern European countries and that this could also happen in China. He hopes to see China as a nation of freedom and peace.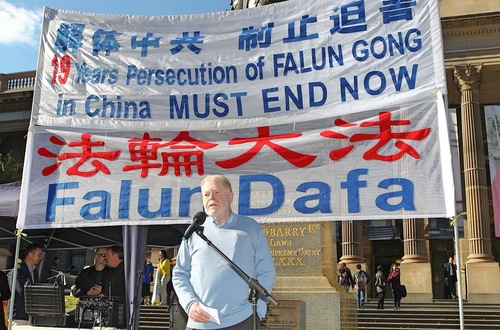 Federal Treasurer of the Democratic Labor Party: Say No to Brutality
Gerard Flood, Federal Treasurer of the Democratic Labor Party, said the communist party is based on lies and violence. As a result, it contradicts Truthfulness-Compassion-Forbearance, the principles of Falun Gong. That is why former communist leader Jiang Zemin banned Falun Gong and started the persecution in July 1999.
Flood urged Australian voters to say no to the brutality based on humanitarianism. One example is the upcoming federal election, in which voters can influence candidates on key issues.
Vietnamese Community Leader: Speak for Freedom in China
Bon Nguyen, the Victorian Vietnamese Community president, was severely disturbed by the mistreatment practitioners suffered for their belief in China. He said practitioners are very peaceful and they are wrongly suppressed in China, including the forced organ harvesting from living Falun Gong practitioners for profit.
He said Australia is a land of freedom. If everyone remains silent before this human rights abuse, that freedom will no longer exist. He called on more people to support Falun Gong practitioners.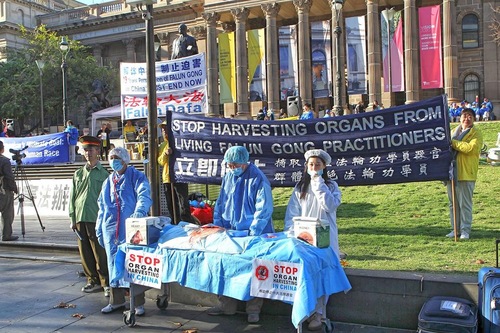 Community Reporter: Help Is Needed from International Society
This rally also caught the attention of the news media. David from local CBD news said he plans to report on the event today and tell people about this beautiful meditation. In particular, he would tell people how to learn it, as well as about the ongoing suppression in China.
He said it is important for the international society to understand this issue and help the Chinese people to freely practice their belief. He said as long as practitioners continued their efforts, more people will be aware of this.
Passersby: Feeling the Strong Energy
Prior to the rally, practitioners also had a march that crossed business streets and Chinatown. Many residents and tourists were impressed by the march and rally.
Janine Perez, a graduate student at the University of Technology Sydney, was dining at Chinatown with her boyfriend. Seeing the march, she was moved and walked with practitioners until they reached their destination.
"I could feel a strong energy and that is why I followed along," she said. Seeing the severe torture practitioners have experienced, she was very touched and considered today's event very important to inform the public about it. "The brutality in China seems far away from us here in Australia," said Perez, "But events like this connect all of us, helping people to know about it and think how to help."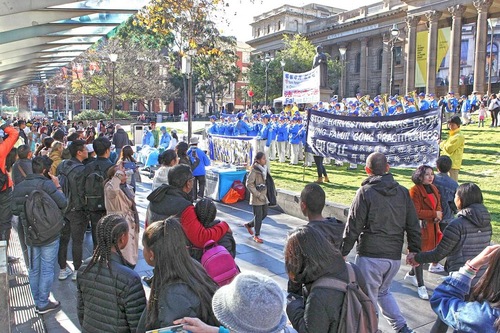 Upon hearing what happened in China, Melbourne resident Odin McDonald signed a petition. "This suppression is absolutely wrong. And I feel bad for those imprisoned in China because of their belief," he said. He encouraged practitioners to continue their efforts so that more people would know about it.
Ma and Yu, two tourists from Liaoning Province in China, have been in Melbourne for three days. Both of them were glad to meet practitioners since they could not see this back in China. "I like this [rally] a lot," said Yu.
41 total views