Falun Dafa practitioners in Canada were invited to celebrations of the National Day in Toronto, Vancouver, and Banff.
Falun Dafa, also called Falun Gong, is a spiritual meditation practice that originated in China. It is now practiced by more than 100 million people in more than 100 countries and regions around the world.
Toronto
July 1 is the National Day of Canada. The Falun Dafa Association of Toronto was invited to participate in the celebration parade in East York of Toronto.
The parade began at Dieppe Park. Practitioners performed with a waist drum team and lion dances. They also set up a booth to introduce Falun Dafa, demonstrated the exercises, and performed dances after the parade ended in Stan Wadlow Park.
Many visitors showed interest in Falun Dafa, and many of them signed a petition calling for an immediate end to the brutal persecution of Falun Dafa in China.
George is a local resident and teacher. His grandparents and his father, who was a policeman, were killed by the Communist Party in Russia, and he said he is familiar with the evil nature of the communist regimes and sympathetic to Falun Dafa practitioners.
"Its system is turning people into machines. Many Westerners don't understand that the Chinese Communist Party is a bad thing," said George.
George once had a student from Hong Kong. When they discussed Falun Dafa, the student seemed afraid of the topic, unlike other students. "He was born in Hong Kong but had been in Beijing for a long time. He appeared to be brainwashed," added George.
After signing the petition, George took some fliers to show his students.
Some tourists from mainland China publicly announced their withdrawal from the Chinese Communist Party and its affiliated organisations at the event.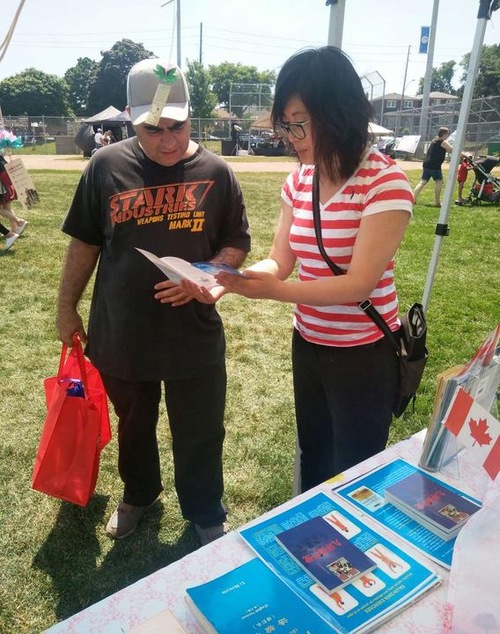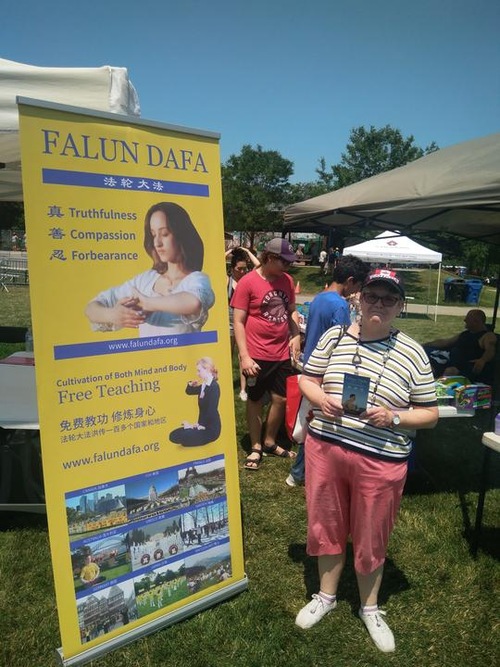 Vancouver
Falun Dafa practitioners participated in the National Day Salmon Festival parade in Richmond. Some Chinese residents greeted the practitioners and said, "You've been working hard!"
The Salmon Festival parade is the largest celebration in the Vancouver metropolitan area. Richmond has a significant Chinese population, many of whom came to watch the parade.
Falun Dafa has participated in the parade for many years. This time, practitioners presented a float decorated with the Chinese characters for "Truthfulness Compassion Forbearance." They also played waist drums, performed in the Tian Guo Marching Band, and demonstrated the Falun Dafa exercises.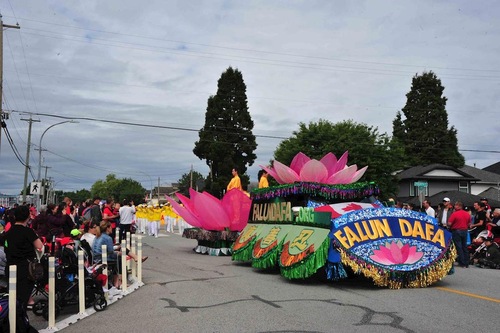 One Chinese spectator approached the practitioners' marching band and said, "You've been working hard! Thank you!"
Frank Yue is a new immigrant from China. Watching the National Day parade for the first time, he reflected, "In Canada, people participate in the event of their own will. The smiles on their faces are from their heart," Mr. Yue said.
"Falun Gong is very welcome here. People wave at Falun Gong, take photos and videos, and ask for fliers," he observed.
Mr. John Roston is campaigning for a Richmond city council position. "This is an exciting parade. I've seen Falun Gong every year for many years, and they are always the largest… A very exciting and uplifting team!" Roston said.
Banff
Known for its natural beauty, Banff National Park attracts millions of visitors from all over the world every year, including many tourists from China.
In the township of Banff, the National Day parade composed of 30 floats representing large companies, tourism organisations, and marching bands. Falun Dafa was the only Asian group in the parade.
Many Chinese tourists watched closely at the Falun Dafa procession. They took videos and photos and waved at the practitioners.