Millions of Falun Dafa followers throughout the world once again celebrated May 13, recognised as World Falun Dafa Day. It is a time when practitioners express their gratitude to Master Li Hongzhi for the precious and rare opportunity to cultivate in a righteous way.
Bulgarian Falun Dafa practitioners were no exception and sent birthday greetings to Master Li via the Minghui website.
They held activities to celebrate World Falun Dafa Day in the cities of Sofia, Varna, and Rousse. At one of the events in Sofia, practitioners met the president of Bulgaria and gave him a flyer about Falun Dafa and the persecution in China.
Rousse
Practitioners held an event in front of the courthouse in Rousse on May 13, to inform people of the ongoing persecution of Falun Dafa in China and urge them to sign a petition to bring former Chinese Communist Party leader Jiang Zemin to justice.
On July 20, 1999, it was his decision to try to eliminate Falun Dafa, a decision which led to the deaths of thousands of Falun Dafa prisoners of conscience.
Practitioners from the cities of Rouse and Stara Zagora handed out flyers and told passersby about the persecution of this peaceful meditative practice.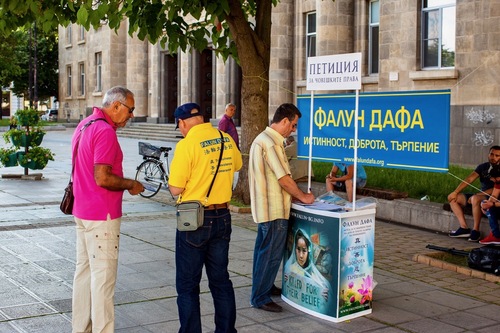 Varna
Falun Dafa practitioners in the city of Varna organised events on May 12 and 13 which focused on the persecution.
On May 12, an event was held in the Asparuhovo district. Passersby had the opportunity to sign a petition on Sunday afternoon in the downtown square next to City Hall.
A representative from Amnesty International (an independent international human rights organisation that recently established a branch in Bulgaria) was very concerned about the human rights' violations Falun Dafa's followers in China are enduring, and asked the practitioners to provide him with detailed information.
Sofia
Practitioners in the city of Sofia took World Falun Dafa Day as an opportunity to make more people aware of the practice.
On the weekend of May 12 and 13 they arranged exercise demonstrations twice a day in two different parks: South Park and Borisov's Gardens. Many newcomers showed up to learn the exercises, thanks to social media.
Nadya and Boris, a young couple, came from far away to learn about Falun Dafa. Having previous experience with tai-chi made it easy for them to recognise the spiritual beauty and energy of the practice. After doing the exercises, Boris was excited to share his feeling of internal energy, and expressed his desire to have an exercise site in the southern part of Sofia, where he lives with Nadya.
Many people who had learned about Falun Dafa at the "Zdravei Zdrave" Health Fest in different Bulgarian cities came to do the exercises.
Two girls who have been doing the exercises indoors only shared their incredible feeling when doing them outdoors, in spite of a light drizzle. Many of the attendees said they'd like to continue coming to the park to do the exercises.
The exercise demonstration in Borisov's Gardens coincided with the Asian Festival "The Color of Traditions," which is organised by 13 diplomatic missions, the Chinese being one of them.
The President of Bulgaria Mr. Rumen Radev made an opening speech: "The Asian countries are naturally Bulgaria's partners since we are the bridge to Europe for them. The Asian continent is the origin of ancient civilizations who have been drawing Europe's attention since early times. Their diverse traditions, customs, and achievements in areas like art and especially philosophy deserve admiration."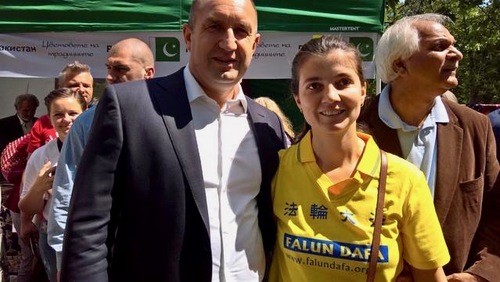 One of the Falun Dafa practitioners commended President Radev for his spirit of cooperation and took the opportunity to inform him about the persecution in China by handing him a Falun Dafa flyer.
Related Articles: 
Bulgaria: Zdravei Zdrave Health Fest Draws Exceptional Interest in Falun Dafa
Bulgaria: "Hello Health" Fair Hosts Falun Dafa Seminars in Five Cities
(Clearwisdom)
20 total views