More than 100 groups participated in the 42nd Starlight Parade Rose Festival in Portland, Oregon on June 2, 2018. Among the groups, the float made by Falun Dafa practitioners earned the highest award, the Sweepstakes-Best Illumination.
Known as the City of Roses, Portland has had more than 100 years of history with the festival. The Starlight Parade is one of the most popular events, with an estimated 320,000 people who watched the event.
The practitioners' redesigned float featured the theme "Uplifting Mind and Body," a green color scheme that represents spring, and plum flowers that symbolize practitioners' determination in their faith despite its harsh suppression in China. On the float was a lotus throne surrounded by colorful clouds, while on the top stood a gold sail.
Even while it was being prepared, people took pictures of the float and posed for pictures with practitioners, along with the words "Falun Dafa" and "Truthfulness, Compassion, Forbearance" on the float. An older couple said they were touched by the greatness of Falun Dafa and practitioners' perseverance in their belief.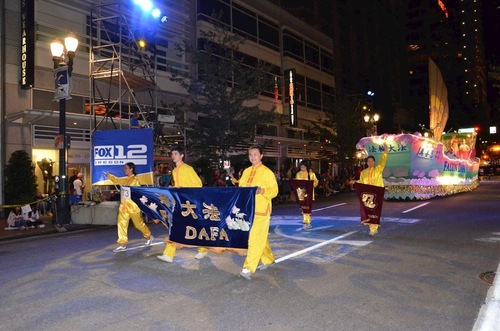 Two young people from the Lions Club came to take pictures. They were shocked to hear about the mistreatment practitioners in China suffer for their faith, including two children at the parade whose parents had died from torture in detention. The Lions Club members thanked the practitioners for sharing the information with them and encouraged them to continue their efforts.
The parade started at dusk. Spectators were excited to see practitioners in traditional Chinese costumes, while those dressed as heavenly maidens sat on the boat to demonstrate the Falun Dafa exercises. Some viewers learned the exercises by following their movements.
Local television station KPTV broadcast the event live. Many stages were set up on the parade route for hosts to introduce the participating groups. One host said Falun Dafa has more than 100 million practitioners worldwide and follows the principles of Truthfulness-Compassion-Forbearance. He added that the exercises were suitable for all ages and that the practice is free of charge.
45 total views