Over the past four Fridays, tourists and local residents have seen Falun Gong practitioners at Belmore Park, demonstrating the exercises and handing out materials to expose the nearly 19-year persecution in China.
"Our effort together will expose the truth," Sandy Bruce said with confidence at the Falun Gong practitioners' booth at Belmore Park in Sydney.
Sandy, visiting Sydney from Western Australia, was impressed by the Falun Gong practitioners: "I saw them meditating there. So wonderful and peaceful."
"I heard about Falun Gong five years ago. The [Chinese Communist Party's] forced organ harvesting [of persecuted practitioners] shocked me. Since then, I have often seen practitioners talking to the public. I even saw them in Paris. I know that we should spread the truth all over the world and take action to stop the persecution. Although the communist party has been trying to spread their ideology in Western society, I believe that our efforts together will expose the truth."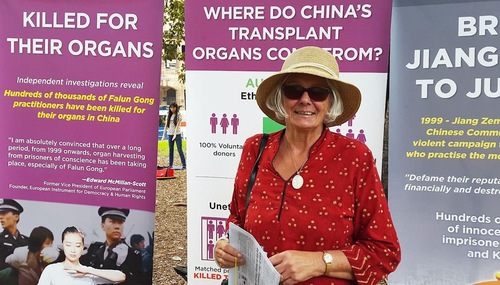 Ben Green also condemned the state-sanctioned organ harvesting.
"It must be stopped immediately," Ben said. "Falun Gong practitioners need help, and they deserve help from people everywhere. I just signed the petition against the forced organ harvesting. I want to help them from the bottom of my heart. I will tell my friends about this, and ask them to help too."
"I work at the Red Cross, so I have been following up on [the forced organ harvesting]," Iqia said. "I know that a patient often has to wait for 10 years for a kidney. So, I was confused and frustrated when I learned that it only takes a few weeks in China.
"I believe if more people stand up to support Falun Gong's protests against the forced organ harvesting, we can stop this crime in China," Iqia said.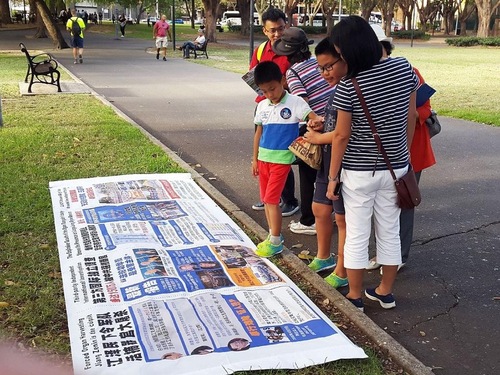 Jessica Curran, a college music major, could not understand why the communist party would persecute such a peaceful group.
"It is so inhumane," she said. "I am honored to sign the petition. It is so meaningful. I will let my friends know, and ask them to support this peaceful resistance."
Many Chinese tourists also stopped by to talk to practitioners and read the informational materials. Some of them quit the communist party with practitioners' help.
6 total views