Falun Dafa practitioners were invited to participate in a parade on National Day, also called St. Patrick's Day, in Cork, the second largest city in Ireland, on March 17, 2018. The parade featured 70 entries and included nearly 3,000 participants. About 50,000 spectators lined the parade route.
Festival-goers cheered the Falun Dafa contingent. A spokesperson for the Cork City Council, the agency that organised the parade, was pleased that more citizens had the opportunity to learn about Falun Dafa.
Falun Dafa Contingent Warmly Received
Leading the Falun Dafa contingent were two practitioners carrying a banner reading "Falun Dafa Is Great." Young women dressed in traditional Chinese costumes performed the Lotus Dance and Fan Dance, and following them was the exhilarating Tang Drum Team. A peaceful Falun Dafa exercise demonstration brought up the end.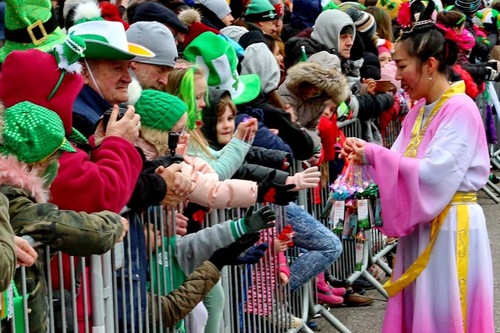 Cork City Council Spokesperson: It's Great that More Citizens Are Learning About Falun Dafa
Irish Falun Dafa practitioner Michael (right), gives a copy of Zhuan Falun to Cork City Coucil spokesperson Jean Brennan (left), who said that she looked forward to learning more about Falun Dafa.
"We are delighted to see Falun Dafa take part in the parade this year," said Jean Brennan, spokesperson for the Cork City Council. She said it's great that more citizens are learning about Falun Dafa.