"The thought of learning qigong popped into my head a few days ago, and today I learned about the principle of Truthfulness-Compassion-Forbearance," said a woman at the health expo in Køge, Denmark, when she stopped at the Falun Gong booth. "I am very happy to have found you here. I know this is what I'm looking for. The teaching is easy to understand, yet so profound."
The woman spoke to Falun Gong practitioners from Copenhagen who were participating in the health expo in Køge, a coastal town south of the nation's capital. The two-day event ran from January 19-20.
The visitor at the booth said that she would get a headache whenever she read even two pages in any book. "But I don't feel any pain when I read Zhuan Falun," she said. "I am totally drawn to it." She was happy to buy a copy of the book at the expo.
Paper lotus flowers made by the Falun Gong practitioners were popular at the expo. The flowers were attached with colorful cords to bookmarks emblazoned with the guiding principle of this ancient Chinese self-improvement practice, Truthfulness-Compassion-Forbearance.
Several parents who attended the expo with their children said that they appreciated this message. A father with a little boy was interested to learn that in the Chinese culture the lotus flower signifies purity in the midst of a muddy environment. He was moved, and explained the meaning to his son.
A mother also resonated with Falun Gong's principle, and said that she hoped her children would remember it. She returned on the second day of the expo and told the practitioners that her children enjoyed the paper lotus flowers and wanted to know about the principle of Truthfulness-Compassion-Forbearance.
Besides learning about the teachings of Falun Gong, expo visitors also heard about the brutal persecution of the practice in China. Many people were shocked by the state-sanctioned organ harvesting from Falun Gong practitioners in China, perpetrated by the Chinese regime.
"It is way beyond a human rights violation," said one gentleman. "It is equivalent to, or even worse than, a war. This is a crime, and we must stop it."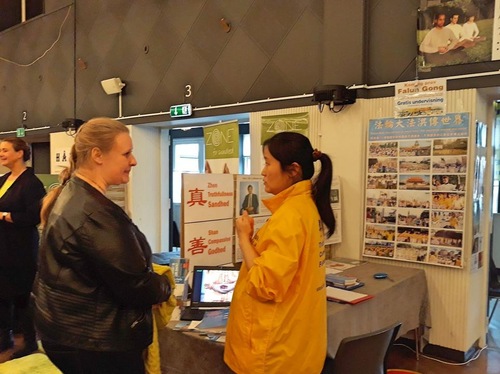 The hosts of the expo were very supportive of Falun Gong, and admired practitioners' peaceful resistance against the persecution in China. They gave the practitioners a discount for the booth and introduced the practice to other groups at the expo.
Many vendors stopped by the Falun Gong booth and picked up posters, flyers, and lotus flowers. As they watched the exercise demonstration, some of them remarked that they definitely felt the peaceful energy field.
"They even suggested that their customers visit our booth," said Ms. Chen, a Falun Gong practitioner. "Several vendors also asked for our contact information, expressing an interest in learning the practice."