Falun Dafa (also known as Falun Gong) was introduced in Bangalore in 2001. Since then, practitioners have taught the spiritual and meditation practice across the state of Karnataka in schools and colleges, corporations and clubs, and NGOs, such as the Dignity Foundation.
Karnataka is the eighth largest state in India by area and the ninth largest by population with 66 million inhabitants.
The book Zhuan Falun was translated into Kannada in 2012. However, many people in smaller towns and villages have asked for the book Falun Gong in Kannada, since they learned the exercises first and did not speak much English.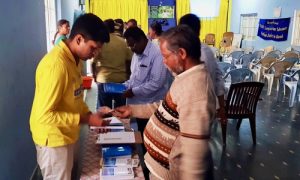 After years of revision and editing by practitioners, the Kannada language version of Falun Gong was officially released on January 6, 2018, at the Press Club in Kolar, Karnataka. Kolar is a small city close to Bangalore and has had Falun Gong practitioners living there for more than a dozen years now.
Practitioners have introduced the practice at quite a few schools in and around Kolar.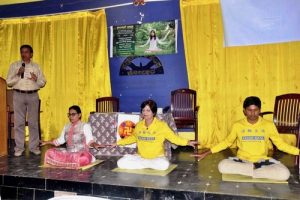 Mr. Ganesh, a Falun Dafa practitioner and a local media reporter, hosted the book launch ceremony. He gave a brief background of the practice, its founder Mr. Li Hongzhi, its teachings, and the persecution of Falun Dafa in China. He also shared his own experience of practicing Falun Dafa with reporters.
Mr. Pradeep, another practitioner from Kolar, is the headmaster of a government school in Kolar. He also played a significant role in the book translation. He shared his experience as a practitioner and read "On Dafa" in Kannada as he introduced the book.
A few practitioners from Bangalore also attended the ceremony. They demonstrated the Dafa exercises, shared their experiences with the practice, and encouraged Kolar residents to spread the practice far and wide.
(Clearwisdom)