Falun Gong practitioners from the San Francisco Bay Area held a rally at the State Capitol in Sacramento, calling for the Chinese regime to end its state-sanctioned killing of Falun Gong practitioners for their organs. State Senator Joel Anderson and Assembly Members Randy Voepel and Tom Lackey spoke at the rally.
One of the goals of the rally was to show support for SJR10, a resolution that condemns forced organ harvesting in China.

At the rally, Anderson, the author of the resolution, said, "I proudly stand here with everyone to condemn the Chinese Government for their persecution of Falun Gong practitioners. … It takes great courage to stand up against persecution, to stand up against one of the greatest nations in the world—China—and to call them out for their practice of harvesting organs and the genocide they have created against Falun Gong. Together, we've taken our first steps towards defending freedom and human rights."
"In World War II, there were deniers who said the Holocaust didn't exist, who said it wasn't happening. We now know that the Holocaust happened and that millions of Jews lost their lives. I will not stand by and watch millions of Falun Gong practitioners lose their lives," Anderson said.
"If you feel strongly and you believe that nobody should be persecuted or executed for their body parts because they practice a faith, then you need to call your legislator and tell them that they need to stop genocide in China," he said.
Voepel also spoke at the rally, affirming the importance of the resolution and the message it sends to the Chinese regime.
"It makes the vital statement that we stand against oppression—against a regime that wants to control the minds and bodies of its own people," Voepel said. "Organ harvesting is big money over there—it's an underground economy."
"That is pure evil in the world, and I will stand up against evil in any way I can," he said.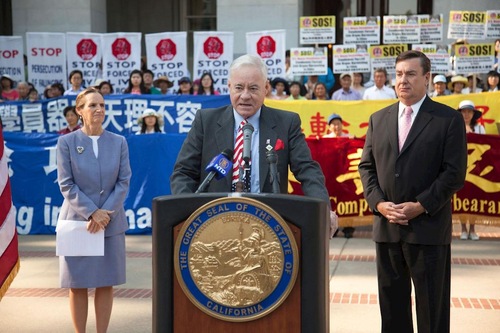 Assembly Member Lackey believes that the rally will draw public attention to these human right abuses in China. He stated that, although it is hard to believe, there is a considerable amount of evidence that proves the existence of forced organ harvesting in China.
He said people in the free world should expose forced organ harvesting in China and ask the U.S. Government to take actions and help to stop this crime.