Portuguese Falun Gong practitioners gathered in front of the Belém Palace in Lisbon on the morning on July 12, 2017, to protest visiting Chinese official Zhang Dejiang. With banners reading "Bring Zhang Dejiang to Justice" and "Stop Forced Organ Harvesting in China," practitioners explained how Zhang had been heavily involved in the suppression of Falun Gong in China.
Currently serving as chairman of the Standing Committee of the National People's Congress, Zhang was formerly the party secretary of Zhejiang Province (1998-2002), Guangdong Province (2002-2012), and Chongqing. He played a significant role in leading the Communist Party's suppression of Falun Gong in these areas.
For example, over 30 practitioners died in Guangdong between 2002 and 2006 as a result of torture in police custody. Among them, one pregnant practitioner died in a brainwashing center after physical and mental abuse.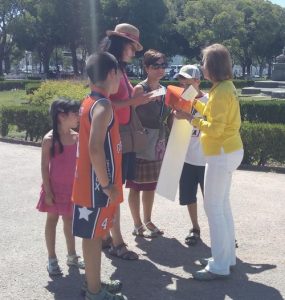 Zhang continued to lead the suppression of Falun Gong after he arrived in Chongqing. In particular, he claimed that Falun Gong practitioners were linked with mob activities and ordered schools to add party propaganda defaming Falun Gong into their textbooks.
During the event in Lisbon, practitioners made announcements to the public in both Chinese and Portuguese detailing Zhang's crimes. They also urged the Portuguese government and international society to pay attention to the severe human rights violations still taking place in China.
Related report in Chinese:张德江到重庆后继续迫害善良百姓