Falun Gong practitioners in Sweden held activities to introduce Falun Gong and expose the persecution of Falun Gong by the Chinese Communist Party (CCP) during Almedalsveckan on the island of Gotland from July 2nd to July 9th, 2017.
Almedalsveckan is the most important and largest forum in Swedish politics, with 50 years of history. During the week, representatives from the major political parties in Sweden take turns making speeches, and organisations hold seminars and political activities. Falun Gong practitioners took this opportunity to raise awareness of the CCP's atrocity of harvesting organs from living Falun Gong practitioners.
Falun Gong practitioners demonstrated the Falun Gong exercises on the street leading to Almedalsveckan. Passersby were shocked to find out that innocent people following the principles of Truthfulness-Compassion-Forbearance were being persecuted by the Chinese Communist Party and their organs harvested for profit.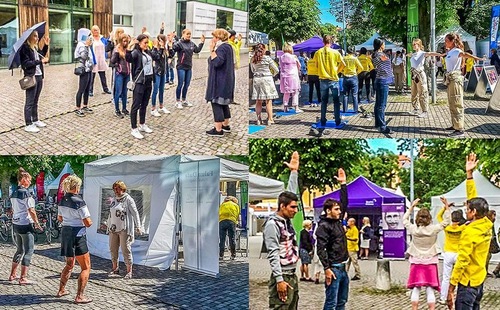 Many of them signed a petition calling for an end to the atrocity. Some of them signed on behalf of their families. Some said that they could feel the strong energy of Falun Gong, and learned the exercises.
A college student sat next to the Falun Gong practitioners, and said, "I feel so comfortable sitting with you!" She learned detailed information about the persecution. In the following days, she stopped by to talk to practitioners several times. On the last day, she wanted to learn the exercises and did so with ease. She was able to keep up with all five of the exercises. Feeling grateful, she hugged the practitioners and thanked them for teaching her.
A couple of ladies encouraged the practitioners to keep up with their meaningful work. An older man said, "What you are doing is very important and meaningful! Don't take it lightly."
A VIP interview booth was set up right next to the Falun Gong booth. As politicians came to give their talks, Falun Gong practitioners took this perfect opportunity to tell them about the persecution.
The practitioners were also granted an hour to make a speech at a nearby square. MP Niclas Malmberg and MP Hans Rothenberg showed their support in person on July 5. They said that the Swedish government would never be involved in any organ business. They encouraged people to help spread the word.

Reporters of Sveriges Television, Swiss Radio International, and SVT 24 interviewed the Falun Gong practitioners. They helped to bring Falun Gong's message to people throughout the nation, in addition to the 40,000 people who attended Almedalsveckan. Many of them stopped by the Falun Gong booth and told practitioners, "Thank you for what you have done!"