May 13, 2017 marks the 25th anniversary of Falun Dafa's public introduction, and the 18th annual World Falun Dafa Day. Falun Gong (also known as Falun Dafa) practitioners across the world celebrate the anniversary by holding various public events, including parades, rallies, group exercise practice, and music performances.
They also raise awareness about the Chinese Communist Party's (CCP) persecution of Falun Gong in China and call for an end to the 18-year atrocity.
In this report, we cover celebrations in Sydney and Melbourne, Australia, and Auckland, New Zealand.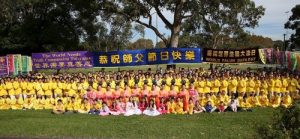 Celebrating World Falun Dafa in Sydney, Australia
Several hundred Falun Gong practitioners held a group exercise practice in downtown Sydney and a march and rally to celebrate World Falun Dafa Day on May 6, 2017.
Many passers-by paused to watch the events.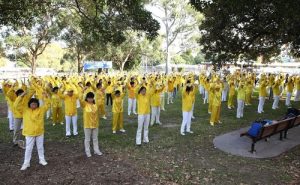 The practitioners held a march in the afternoon. They started from the park, passed the Chinese Consulate, traveled down Parramatta Street, the University of Sydney, the Broadway business area, and finally ended at Belmore Park. Many people watched the march along the route.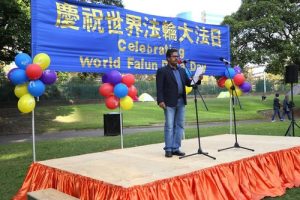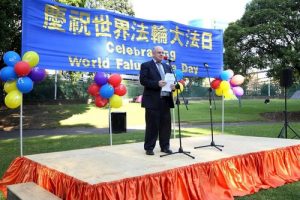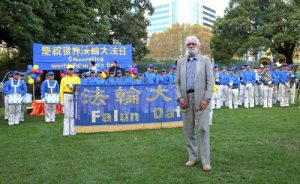 Celebration of World Falun Dafa Day in Melbourne, Australia
Falun Gong practitioners in Melbourne held a large group exercise practice in Fitzroy Garden on May 6, 2017 to celebrate World Falun Dafa Day. Many people stopped to watch.
Elaine Vallance Featherstone, 85, is a former Australian ballet dancer. She has practiced Falun Gong since 1998. A spinal illness disappeared one month after she began practicing and she recovered marvelously from a fractured knee sustained in a severe car accident in 1999. She has been a local coordinator for many years and regularly takes part in activities to introduce Falun Gong to the public and raise awareness of the ongoing persecution in China.

Gary Kearns' many illnesses, including skin cancer, disappeared after he began practicing Falun Gong. He gets up at 3:30 a.m. to do the exercises and study the Fa. Garry feels energized by the practice.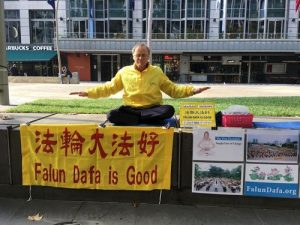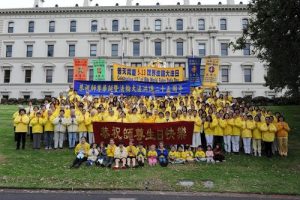 Celebrating World Falun Dafa Day in New Zealand
Falun Gong practitioners held activities on Aotea Square in Auckland, New Zealand on May 6, 2017 in honor of World Falun Dafa Day.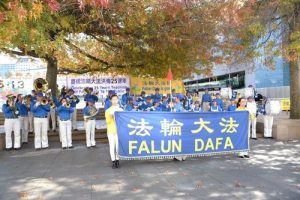 The Tian Guo Marching Band and waist drum team drew the attention of many residents, with many people taking photos of the event.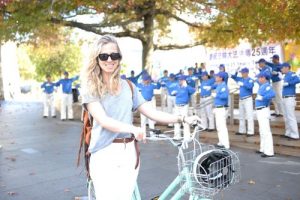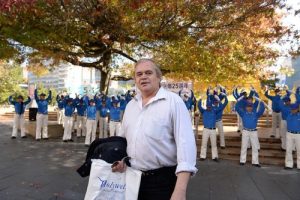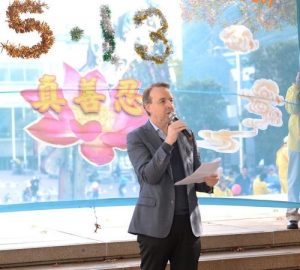 (Clearwisdom)