The Mining Journal, the biggest newspaper in northern Michigan, carried a letter titled "Falun Dafa Day is Saturday" on May 11, 2017. The letter was written by practitioner Hsin-Ling Hsieh for the "Letters to the Editor".
In the letter, Dr. Hiseh stated that May 13 is World Falun Dafa Day, which celebrates the 25th anniversary of the introduction of Falun Dafa to the public.
The letter reads, "I would like to thank Northern Michigan University's Student Leader Fellowship Program for having Falun Dafa workshops in the Skill Builders! Leadership Workshop Series over the past 11 years."
"The workshop on March 31 this year marked the 23rd workshop held since 2006. Many NMU students, staff, faculty, community members, and their families attended the workshops and enjoyed the great health benefits of Falun Dafa."
He recalled, "The youngest attendee was a 10-year-old boy. I still remember what he told his Mom after practicing the exercises and meditation: 'Mom, I think I can sleep very well tonight!'"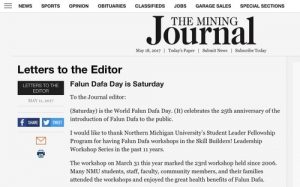 The letter also said, "Falun Dafa, also called Falun Gong, is a self-cultivation practice of the Buddha school. It consists of moral teachings, as well as five sets of gentle exercises and meditation. The core values of Falun Dafa are truthfulness, compassion, forbearance."
"Practitioners take them as a guide for daily life. In the words of Falun Dafa's founder, Mr. Li Hongzhi, assimilation to the highest qualities of the universe: Zhen, Shan, Ren (Truthfulness, Compassion, Forbearance) 'is the foundation of practice' Falun Dafa has brought better health and inner peace to millions around the world.
"Falun Dafa was introduced to the public by Mr. Li Hongzhi in Changchun, China on May 13, 1992. It was widely popular across China and endorsed by government. There were about 100 million practitioners in China by 1999."
The letter raised awareness on the persecution, "However, few leaders of the Chinese Communist Party viewed its popularity as a threat to the regime and started a brutal persecution on July 20, 1999.
The persecution and its associated forced organ harvesting were condemned by many. The U.S. House of Representatives passed H.Res.343 unanimously on June 13, 2016 to condemn the state-sanctioned organ harvesting from non-consenting prisoners of conscience in China, including from large numbers of Falun Dafa practitioners and other groups."
"Despite the ongoing persecution and Chinese Communist Party's propaganda, Falun Dafa is welcomed and commended worldwide. Falun Dafa has received proclamations in Michigan, including city of Ishpeming's recognition of Falun Dafa Day in 2009."
At the end, the letter stated, "Volunteers in more than 100 countries offer free workshops in local communities to help more people obtain better health and stress relief, including the workshops at NMU. Please feel free to visit www.falundafa.org to enjoy the beauty of Falun Dafa."
32 total views