More than 10,000 Falun Gong practitioners from 58 countries gathered in Manhattan, New York City last weekend to celebrate the 18th annual World Falun Dafa Day with rallies, a parade, and group exercises at various sites throughout the city. Over the course of several days, practitioners introduced this ancient cultivation practice to the public and raised awareness of the severe persecution of Falun Gong in China.
The large gathering also provided an opportunity for practitioners of different racial and cultural background to share their stories. Although they differed in details, a common thread in each practitioner's sharing was a profound appreciation to the founder of Falun Gong, Master Li Hongzhi, for giving them the opportunity to cultivate.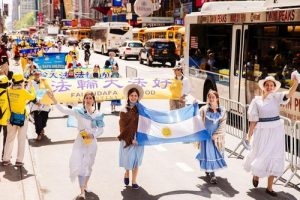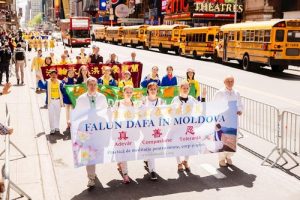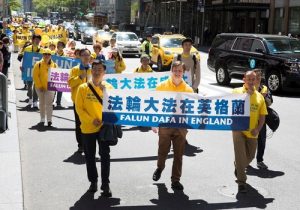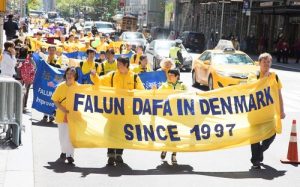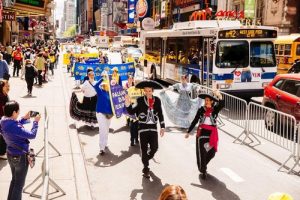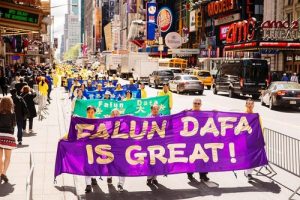 Ukraine Practitioner: The Principle of Truthfulness-Compassion-Forbearance Guides Me
Alex is the manager of a film company in Ukraine. He is happy to see that Falun Dafa has brought peacefulness to every corner in the world.
"I am in our traditional costume today to celebrate this holiday," Alex said. "I am very proud to be a practitioner of Falun Dafa, and follow the principle of Truthfulness-Compassion-Forbearance in my business."
"I try to be fair and humble in business. As I improve my character, and truly respect and care about my employees and some 4,000 actors, they in turn respect me and trust me more."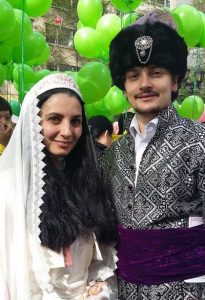 Argentinian Practitioner: Looking Inward and Returning to One's True Self
Marten Czertok, a salesman at an Argentinian media company, used to be addicted to drugs. Falun Dafa helped him quit.
"Falun Dafa taught me the purpose of life. More importantly, it taught me that one will change himself if he looks inward for his own shortcomings. There have been big changes in my mind and behavior. I understand now that looking inward is the way to return to one's true self."
Francisco La Russa, 30, is a musician. He started practicing in 2012.
"I am fortunate and proud to celebrate this holiday in New York today," Francisco said. "Falun Dafa pointed out the road to my life's dream."
Francisco explained, "I had looked for the meaning of life for a long time. After reading Zhuan Falun the first time, I had a strong desire to become a practitioner. In cultivating my own heart, I felt big changes happening to me rapidly. I've become wiser, and more energetic. I don't have nonsense thoughts now and my mind has become clearer. This is the real happiness.
"I sincerely thank Master Li for the teachings and a chance to cultivate."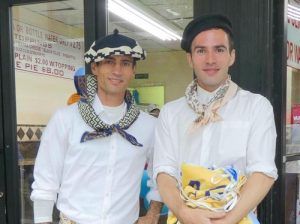 German Practitioner: Falun Dafa Has Changed My View of Life
Nina Hamrle, a businesswoman from Hamburg, Germany, started practicing Falun Dafa in 1997. She said, "Falun Dafa has completely changed my view of life."
Before she started practicing Falun Gong, Nina found very few things in this material world to be trustworthy. She looked for the meaning of life and had many questions.
Nina tried yoga and other spiritual practices, but none of them could offer answers to her questions. However, when she first learned Falun Dafa, she realised this was what she had been looking for.
"What Master Li said in the book Zhuan Falun is so real," Nina said. "Truthfulness-Compassion-Forbearance is what I need. I was depressed facing this material world, which has so much rotten stuff. Falun Dafa shows me a bright road. Following the teachings, I have become a better person. This was a big turning point in my life. Without Falun Dafa, I don't where I would be now."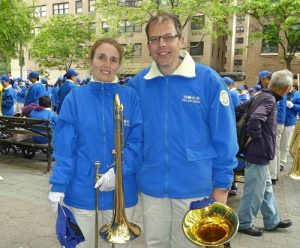 Peruvian Practitioner: Cultivating Falun Dafa Made Me More Tolerant of Others
Gujunio Bereyra, a retired Peruvian government official, started practicing Falun Dafa 11 years ago.
He used to be Catholic and later became an atheist. Now, he believes in Falun Dafa.
"I believe what Master Li said, that living beings exist at different levels in this universe. We just cannot see them with these flesh eyes.
"All I want to say at this holiday is that Falun Dafa is great, Truthfulness-Compassion-Forbearance is great, and Master Li is great!"
Elene Davis, a Peruvian living in Arkansas, has practiced Falun Dafa for 10 years.
"The biggest change in me is that I've become more tolerant and nicer to others. Before, I felt that money was the most important thing in life, and pursuing money and material gain used to be the goal of my life. But now, my goal is to follow the principle of Truthfulness-Compassion-Forbearance, and become a better person."
Elene introduced Falun Dafa to her children and husband, and they have taken up the practice too.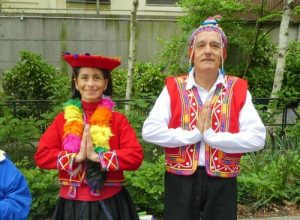 South Korean Practitioner: Looking for the Inner Beauty
South Korean practitioner Lee Chi'en used to pursue external beauty. But Falun Dafa made her realise the importance of inner beauty.
"I often had conflicts with my parents. Every time after fighting with them, I would hold a grudge. But now, I respect them from deep within my heart."
Chi'en's mother is also grateful to Master Li.
"Chi'en has become happy, and you can often see the genuine smile on her face," she said.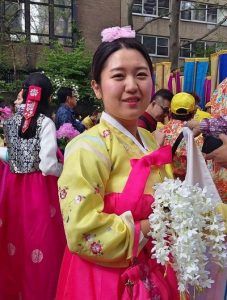 French Practitioner: Lucky to Be a Falun Dafa Practitioner
Arneta, a retired French government official, learned about Falun Dafa in 2001, and has practiced since then.
"When I first started to practice, I felt that Master Li's teaching was so real, and I knew that this is what I wanted," said Arneta. "I used to feel tired all the time and took all kinds of supplements. But after practicing Falun Dafa for two weeks, I was full of energy and I abandoned the supplements.
"I am really lucky to be a Falun Dafa practitioner. I will try my best to reach the criteria as a practitioner. From the bottom of my heart, I am grateful to Master Li."