In the lead-up to US President Donald Trump's meeting with Chinese President Xi Jinping, Falun Gong practitioners gathered in front of the White House on April 4, 2017, with an important request.
They urged President Trump to press President Xi to end the 18-year persecution of Falun Gong and to bring former head of the Chinese Communist Party (CCP) Jiang Zemin to justice. Jiang is responsible for single-handedly launching the brutal persecution of Falun Gong in 1999.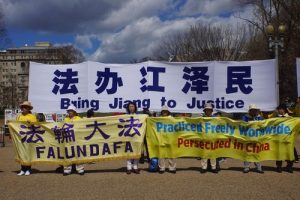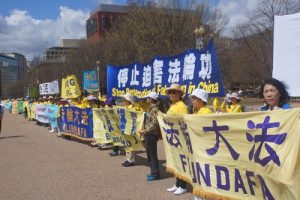 Ms. Yu Zhenjie, a Falun Gong practitioner who was imprisoned for her belief in Harbin, Heilongjiang Province, China, took part in the appeal. She hoped that President Trump would urge President Xi to stop the persecution.
Mr. Lin, a practitioner from Washington D.C., told a reporter, "We hope President Trump will urge Xi to bring Jiang to justice."
John, who works at the American Federation of Labor and Congress of Industrial Organizations, said he had never seen such an orderly protest. He expressed his hope that President Trump would hear the Falun Gong practitioners' voice.
John noted that even though the CCP's violation of human rights and religious persecution was an important message, it was rarely reported in the American media.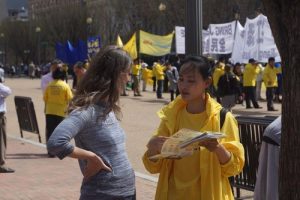 Mr. Amir Arbadi, CEO of a financial company, was visiting D.C. with his family and saw the Falun Gong appeal. He read information about the persecution and the CCP's forced organ harvesting of Falun Gong practitioners and other prisoners of conscience.
Mr. Arbadi stated, "Innocent people shouldn't be persecuted. There is nothing wrong with following [Falun Gong's principles of] Truthfulness, Compassion and Tolerance. The CCP's crime of harvesting organs from living people is unprecedented. The United States should raise the issue as a major priority, exceeding issues such as the South China Sea and trading partnerships. I will never do business with a government which harvests organs from living people… It's a human rights issue. The person who launched the persecution should be punished."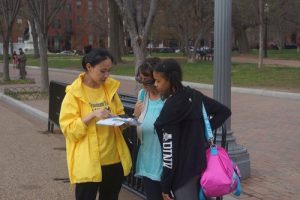 Mr. Ravikand from India said that he had read reports about Falun Gong in the Indian media, and that the people of India had freedom to practice Falun Gong. He believes that Jiang should be brought to justice, "Because a criminal should be charged no matter who he was or how old he was."
More than 200,000 Falun Gong practitioners and their family members have filed lawsuits against Jiang since May 2015.
Falun Gong practitioners will continue their peaceful appeal as President Xi visits President Trump in Palm Beach, Florida from April 6-7.
Background
Falun Gong is a traditional Chinese cultivation practice based upon the principles of Truthfulness, Compassion and Tolerance. It was introduced to the public by Master Li Hongzhi in 1992. According to the Chinese government's statistics, Falun Gong's popularity rose to 70 million practitioners by early 1999. In July 1999, former head of the CCP Jiang Zemin single-handedly launched a persecution of Falun Gong, which has continued for the past 18 years.