After attending four Santa Claus parades on November 19 and 20, Toronto's Tian Guo Marching Band joined two nearby parades on November 26, one in Markham in the morning, and the other in Ajax later in the day.
Markham, Ontario
Mike, a coordinator of the Markham parade, which started at 11:00 a.m., said that 92 groups were participating, and about 20 of them were marching bands. "Tian Guo Marching Band is one of the best," he praised, "It has a production of over 100 band members. People like it a lot, and we invite the band every year." George, another organiser, thanked practitioners for bringing "happiness" and "warmth" during the holiday season.
About one third of Markham residents have Chinese heritage, and many of them applauded the practitioners' performance. Mr. and Ms. Wang, who immigrated from Beijing several years ago watch the band every year. Ms. Wang said, "They [the band members] have excellent music and costumes, and they are the best organised. I am really proud of them."
Ms. Liu, from Wuhan, Hubei Province, watched the parade with her husband. After seeing the Tian Guo Marching Band for the first time three years ago, they were glad to see the practitioners again. Ms. Liu said that she and her husband now know the facts about Falun Dafa and the persecution after reading materials overseas. "I admire the courage of your group despite the suppression in China," she added.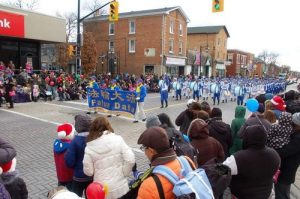 Ajax, Ontario
The parade in Ajax began at 6:00 p.m. Local resident Alex said that he and his friends were moved by the music, saying, "We come here every year. And we are so delighted to see such as professional and high-level band perform for the community."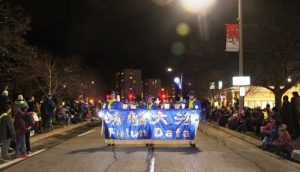 Maria, her husband, and their child applauded the band's performance. Maria's husband, who works in the music industry, was impressed by the great music that the Tian Guo Marching Band brought to the city, saying, "The melodies are awesome. And they make our holiday season very unique and enjoyable."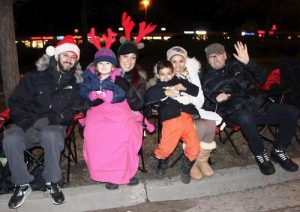 (Clearwisdom)
23 total views