A joint subcommittee hearing titled "Organ harvesting: An examination of a brutal practice" was held by the U.S. House Committee on Foreign Affairs on June 23, 2016. Several witnesses gave testimony that the Chinese Communist Party (CCP) conducts live organ harvesting from Falun Gong practitioners at the scale of genocide, and that the heinous crime is exceedingly cruel.
Mr. David Matas: Large Number of Falun Gong Practitioners Are Killed for Organs
David Matas, one of three co-authors of a recent report on organ harvesting, said in his testimony, "David Kilgour and I have been researching, writing, and speaking on the killing of Falun Gong for their organs now for ten years. Ethan Gutmann is a journalist who interviewed us on our work, and then did his own."
"Since David Kilgour and I published Bloody Harvest, the third version of our report in book form, and Ethan Gutmann published his book The Slaughter, we three have remained active in writing, researching, investigating, and speaking on organ transplant abuse in China. Yesterday, at the National Press Club, we released an 817 page update to our work. It is now available online."
He stated, "The ultimate conclusion of the update is that the Chinese Communist Party has engaged the State in the mass killings of innocents, primarily practitioners of the spiritually-based set of exercises Falun Gong, but also Uyghurs, Tibetans, and select House Christians, in order to obtain organs for transplants."
"The fact that the evidence we have now examined shows much larger volumes of transplants than the Government of China has asserted, points to a larger discrepancy between transplant volumes and Government of China-identified sources than we had previously thought existed. That increased discrepancy leads us to conclude that there has been a far larger slaughter of practitioners of Falun Gong for their organs than we had originally estimated."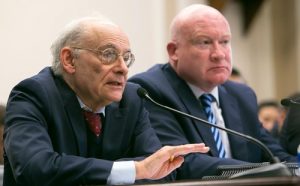 Ethan Gutmann: "This Is the Familiar Specter of Human Genocide—Cloaked in Modern Scrubs."
Investigative journalist Ethan Gutmann testified at the hearing, "…in 1999, State Security launched the campaign to eliminate Falun Gong. By 2001, over one million Falun Gong incarcerated within the Laogai System were subject to retail-organ testing, and Chinese military and civilian hospitals were ramping up their transplant facilities."
"In early 2006, the Kilgour-Matas report was published. Beijing conceded that they used prisoner organs, ostensibly banned foreign organ tourism to China, and provided prisoners with permission-to-donate forms. In 2012, this thin tissue was shredded by the revelation that Bo Xilai's protege, Wang Lijun, ran a live organ harvesting center which had performed thousands of transplants."
He stated, "…this is the familiar specter of human genocide—cloaked in modern scrubs."
He indicated that their newest investigation report shows that the Chinese regime's forced live organ harvesting from prisoners of conscience is continuing at an alarming scale.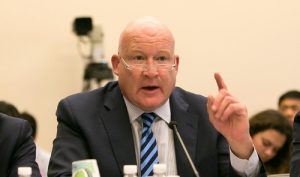 Charles Lee: China Has A Large Organ "Donor" Bank of Living Persons
Charles Lee, M.D., director of Public Awareness, World Organization to Investigate the Persecution of Falun Gong (WOIPFG), testified at the hearing, "So far, WOIPFG has collected more than 3,000 academic papers on organ transplants in China, and has analyzed over 300 of them, with descriptions of donors from over 200 hospitals in 31 provinces and municipalities in China. Nearly all of them were written after 1999, especially between the years of 2000 and 2008."
"By analyzing the descriptions of the gender, age, health condition, and cause of death of the 'donors', the procedure of organ removal, the data on the warm and cold ischemia time (that is, respectively, the time from the cessation of circulation until the perfusion of the organ with cold preservative chemicals; and the time from when the organ is perfused until it is transplanted into the recipient) and the rapidity of organ matching, we are able to point to the clear existence of a large organ 'donor' bank consisting of living persons."
"This new set of evidence also strengthens the previous conclusion that the Chinese regime is harvesting organs from living people, and that very large numbers of captive and healthy Falun Gong practitioners have been kept as living 'donors'."
To show the abundance of organs available in China, he gave an example in which multiple organs were sourced for a single transplant surgery: "One typical case was Huang Jiefu's liver transplant operation in Xinjiang in September, 2005. Huang was then the vice minister of the Ministry of Health. The first donor's liver was discarded due to the discovery that the patient was suitable for autologous liver transplant. Then he called for another three 'standby livers' from three different places: Chongqing, Guangzhou, and Xinjiang (in case the autologous liver transplant failed)."
"Matching livers were quickly found in both cities, and the matching livers arrived in Xinjiang almost at the same time, at 6:30 p.m. on September 29. Huang's operation lasted from 7 p.m. on September 29 to 10 a.m. on September 30. After 24 hours of observation, Huang announced that the operation was successful; therefore, the spare livers were no longer needed."
Charles pointed out, "The acceptable cold ischemic time (that is, the time from when an organ is cooled and perfused with chemicals as it is removed from the donor, until it is transplanted) for a liver is 6-10 hours. In China it is sometimes longer, but should still be within 15 hours. Therefore, one can safely say that the 'two spare livers' brought from Chongqing and Guangzhou could only be two intact living persons, otherwise, the extraction time, flight time, Huang's operation time, and observation time would be at least 50 hours, the livers would have no value. Yet they were called spare livers."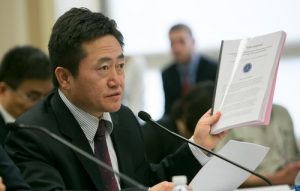 Congressman Dana Rohrabacher: The Chinese Communist Party is One of the Largest Forces for Evil in the World Today
U.S. House Representative Dana Rohrabacher said during the hearing, "The Chinese Communist Party is one of the largest forces for evil in the world today. The systemic government-sponsored harvesting of organs is a monstrous crime. The Chinese regime not only deprives its people of their basic rights on a daily basis, but literally steal their body parts for profit."
"Falun Gong practitioners, a peaceful and respected Chinese movement, continues to suffer greatly at the hands of the CCP," said Rep. Rohrabacher. "They are victims of forced organ harvesting." Under the efforts of human rights advocates, journalists, and investigators, the CCP's atrocities are becoming known to the world.
\
Representative Smith: The CCP's Atrocity is Barbaric
U. S. House Representative Chris Smith said, "The Falun Gong repression is especially brutal, ugly, and vicious. I strongly believe that the 17-year-long campaign to eradicate Falun Gong will be seen as the biggest shame in recent Chinese history." He commented that the organ harvesting by the Chinese regime and doctors is reminiscent of what happened in Nazi concentration camps during World War II.
He indicated that it was a little discouraging that more people aren't coming forward to investigate the perpetrators in the persecution of Falun Gong and organ harvesting, but that this will change.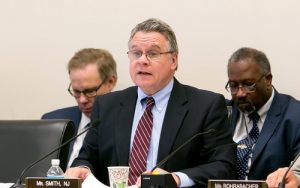 (Clearwisdom)