Falun Gong practitioners in Finland held activities highlighting the Chinese Communist Party's (CCP) crime of forced organ harvesting during the international annual meeting of the European Society of Human Reproduction and Embroyology (ESHRE) in Helsinki July 2-6, 2016.
More than 8,000 medical professionals from around the world were in attendance. Practitioners collected signatures from meeting participants on the "Petition to the UN High Commissioner for Human Rights Calling for an Immediate End of Forced Organ Harvesting from Falun Gong Practitioners in China, initiated by Doctors Against Forced Organ Harvesting (DAFOH)."
Falun Gong practitioners provided medical professionals with copies of the recently updated investigation report on China's organ harvesting from prisoners of conscience, which described the details from the investigation on hundreds of organ transplant cases in Chinese hospitals. Substantial evidence and data has proved the existence of large-scale forced organ harvesting in China.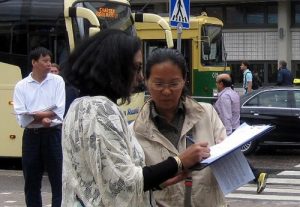 Doctors from the U.S., Canada, Australia, Germany, France, Austria, and other countries signed the petition after reading the report.
Ms. Ofra Balaban, Chairperson of the Patient Fertility Association, stopped at the banner and stared in disbelief. After listening to a practitioner's explanation, she was angered. She said she was very worried about what it must be like for people living under communism. She signed the petition and took more information about Falun Gong.
Dr. Khalod from Sweden said he had heard about the organ transplant industry in China and had doubts about the source of the organs. He was shocked to learn that innocent Falun Gong practitioners are being killed to provide organs for transplants. He asked what he could do to help stop the practice and didn't hesitate to sign the petition.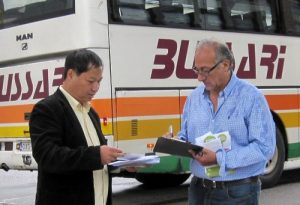 Lalicn, an American doctor, said she had heard the American Congress had passed Resolution 343 in June, urging the CCP to stop forced organ harvesting from Falun Gong practitioners and other prisoners of conscience. She also signed the petition to show her support.
Jayant, a doctor from Britain, said Falun Gong practitioners should attend the ESHRE meeting, so that more people could learn about it.
(Clearwisdom)
10 total views