Over 200,000 criminal complaints have been filed since May 2015 against former Chinese leader Jiang Zemin for suppressing Falun Gong. But many Falun Gong practitioners who filed complaints were later arrested for their efforts to expose the brutality in China.
In Chaoyang City, Liaoning Province alone, at least 20 practitioners were sentenced to prison with terms of up to 12 years. More than 50 are still awaiting judgment.
During a recent interview with Epoch Times, Tina Mufford, Policy Analyst for East Asia-Pacific at U.S. Commission on International Religious Freedom (USCIRF) said that she is concerned about these activities targeting basic human rights. She indicated that everyone in China hopes for "the rule of the law, and to the protection of the fundamental rights to freedom, this includes the freedom of religion or belief, and freedom to express the views relating to those beliefs."
A Travesty Against Humanity
Mufford said that the act of filing a lawsuit is really emblematic of the frustration and desperation of the people, who have been persecuted for their religious beliefs and practices for far too long. "They have no other recourse available to them. And by filing this lawsuit, it is a message to their government, and a message to the world, that they don't want to be ignored any longer. They want their voices heard. They want to be noticed. They want the atrocity committed against them to be known across the world."
Because the persecution of Falun Gong practitioners is "extralegal," Mufford said that these arbitrary arrests and detentions are the kinds of actions that threaten genuine rule of law. "That the Chinese government continues to threaten, harass, and physically attack its own people for their beliefs is simply unconscionable. Certainly it is not the action of a country aspiring to be a true global leader. For far too long, the Chinese government has persecuted religious followers. And in the case of the Falun Gong, this has resulted in extralegal detention and torture, sexual violence, psychiatric experimentation, organ harvesting. Each of these acts is a tragedy against Falun Gong practitioners. And quite frankly, it is a travesty against humanity itself."
"A Country of Particular Concern"
Mufford emphasized that the arrest and detention of Falun Gong practitioners did not follow lawful procedure. "They have not been given due processing; it has not been afforded appropriate rights. And they should be released. This appears that there is no basis for their detention, and they are simply expressing their rights to freedom of religion or belief, which they have every right to do. And the Chinese government should respond accordingly."
Because of China's ongoing, systematic and egregious religious freedom violations, USCIRF considers China a country of particular concern. The U.S. government has continually listed China as such. "The U.S. is about to hold bilateral discussion with China, as part of the strategic and economic dialogue in Beijing in just a few days. This is a perfect opportunity to raise the U.S. government's concern that the persecution against the Falun Gong, against Christians, against Tibetan Buddhists, and others," she added.
Support from the U.S. Department of State
Du Haipeng, 26, and other Falun Gong practitioners held a press conference in front the Chinese Embassy in Washington DC on May 27. Du's mother, Yuan Xiaoman was arrested at home in Dalian City, Liaoning Province, several days earlier.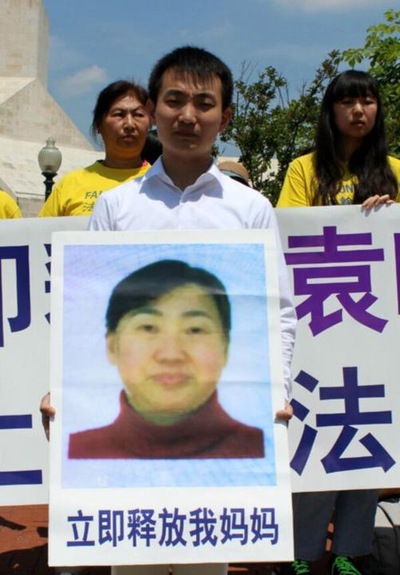 Regarding the detention of Falun Gong practitioners, a letter from the United States Department of State declared, "We call on Chinese authorities to release all individuals detained for peacefully expressing their religious beliefs and permit them to worship freely in accordance with China's international human rights commitments."
The letter affirmed, "We will continue to raise our concerns over the treatment of Falun Gong practitioners concerning individual cases of concern, and call on the Chinese government to respect the universal human rights of all Chinese citizens in accordance with China's international human rights commitments."
(Clearwisdom)
6 total views