According to information compiled by Minghui.org, 1,826 citizens were arrested in China in March and April of 2016 for refusing to renounce Falun Gong, a spiritual discipline being persecuted by the Chinese communist regime.
Two of the targeted practitioners died within two weeks of their arrests, and the authorities threatened their families to waive their rights to pursue legal action.
Mr. Yang Zhongsheng from Ruian City, Zhejiang Province died on April 21. His body showed signs of trauma. His death came barely three years after his older brother, who also practiced Falun Gong, was beaten to death in detention. Both brothers lost their lives at the age of 38.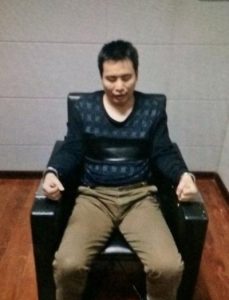 Mr. Gao Yixi from Mudanjiang City, Heilongjiang Province died on April 29. His family noticed severe swelling on his chest and handcuff marks on his wrists. He was 45. While mourning his death, his 16-year-old daughter fears for her mother's life, as she is still detained for practicing Falun Gong.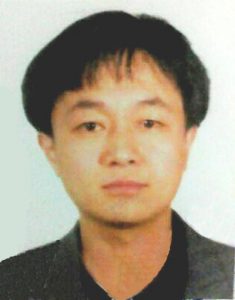 Direct Triggers for Arrests
Most practitioners were arrested because they were reported to or caught by police for distributing information about the persecution of Falun Gong.
A sizable number of practitioners were targeted because they filed criminal complaints against former Chinese leader Jiang Zemin for launching the persecution.
Still others were taken into custody because they had been either monitored by police or working to seek the release of other detained practitioners.
1,055 Still in Detention
The 1,826 arrested (989 in March and 837 in April) come from all walks of life and include physicians, government employees, engineers, business owners, teachers, homemakers, and retirees.
To date, 1,055 practitioners are still being held in various places, including detention centers, police stations, and brainwashing centers. Some of them have already been formally arrested and are facing possible indictment.
Practitioners All Across China Targeted
The arrests were scattered all across China, covering almost every province and centrally-controlled city. Shandong Province had the most arrests (445), followed by Liaoning Province (175). Five other provinces also registered triple-digit arrests: Jilin (139), Hebei (120), Heilongjiang (108), Hebei (102), and Guangdong (102).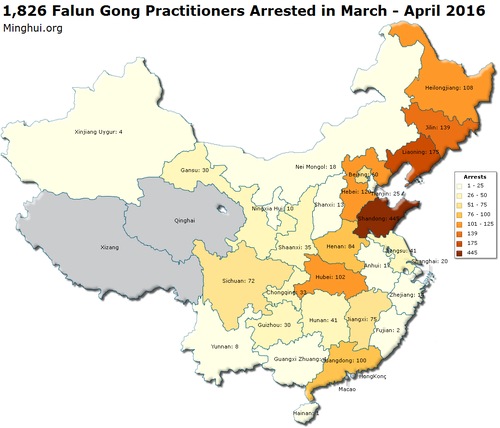 Music Teacher Seized While Publicizing Falun Gong
Ms. Gan Xuemei from Dujiangyan City, Sichuan Province was arrested on March 3 while distributing materials about the persecution of Falun Gong. The local authorities are preparing to indict the music teacher, who is now held at Pi County Detention Center.
18 Arrested in 2 Days for Suing Jiang Zemin
A total of 18 Falun Gong practitioners in Dezhou City, Shandong Province were arrested over the course of two days in April of this year. They were targeted by police after filing criminal complaints against Jiang Zemin.
Police Sweep Results in 50+ Arrests
More than 50 practitioners from Zibo City, Shandong Province were arrested on March 21 and 22 of this year. According to arresting officers, they had been monitoring their targets for months, culminating in the coordinated raids.
12 Apprehended Outside Courthouse
Twelve Chongqing practitioners were arrested on March 26 while trying to attend the trial of practitioner Mr. Liu Zhiming. Police ransacked four of the practitioners' homes.
Abused in Detention
Many practitioners were brutalized during arrest and later in detention.
Officers cuffed Ms. Tang Shuzhen's hands behind her back and pulled them up high, causing excruciating pain. The officers interrogating her then slammed her onto the ground and stomped on her body. They next pulled her up, slapped her face, and showered her with punches and kicks. She shouted for them to stop, only to have a towel stuffed in her mouth.
Ms. Zhang Yanfang from Jinzhou City, Liaoning Province fainted during an interrogation session in which she was repeatedly beaten. A medical examination indicated that her blood pressure had shot up to a dangerously high level and that her heartbeat was irregular. The police sent her to Dalian Detention Center on the same night.
Large Sums of Money Extorted
Many practitioners had their valuables taken and money extorted from them during their arrests. Ms. Tian Caiying from Fushun City, Liaoning Province was arrested and had 100,000 yuan confiscated on April 22. She had planned to use 80,000 yuan of the sum to pay her mortgage, and her lawyer is now struggling to get the money back. The officer in charge of her case used various excuses to turn down meetings with the lawyer.
In March alone, the police confiscated a total of 173,218 yuan in cash from 33 practitioners. The month of April saw police confiscate 572,730 yuan in both cash and bank deposits from 29 practitioners, with a median of 5,000 yuan and a mean of nearly 20,000 yuan.
14 Penalized for Their Faith
In addition to above arrested practitioners, many other people faced other forms of punishment for their faith.
In particular, authorities in Duolun County, Inner Mongolia issued an order on April 18 to penalize 14 locals for refusing to renounce Falun Gong.
It has been confirmed that the order came from the Duolun County "610 Office," an extralegal agency tasked with eradicating Falun Gong and given power to override law enforcement and judicial systems in doing so.
The 14 practitioners are current or retired government employees.
Sun Xiangdong and Gao Lingjuan, both tax bureau workers, received pay cuts.
Cao Hairong from the local TV station and Zhao Jinghua from the local court were demoted and transferred to other agencies.
Ji Xiaoquan from Farming Bureau and Cao Zhenyou from Caimushan Township government were fired.
Eight retirees had their pensions stopped, including Xiao Guanglan, Li Aizhen, Yang Shumin, Zhou Ruilin, Cao Wanxi, Yang Yuqin, Wu Huajun, and Xu Shulan.
Background
In 1999, Jiang Zemin, as head of the Chinese Communist Party, overrode other Politburo standing committee members and launched the violent suppression of Falun Gong.
The persecution has led to the deaths of many Falun Gong practitioners over the past 16 years. More have been tortured for their belief and even killed for their organs. Jiang Zemin is directly responsible for the inception and continuation of the brutal persecution.
Under his personal direction, the Chinese Communist Party established an extralegal security organ, the "610 Office," on June 10, 1999. The organization overrides police forces and the judicial system in carrying out Jiang's directive regarding Falun Gong: to ruin their reputations, cut off their financial resources, and destroy them physically.
Chinese law allows for citizens to be plaintiffs in criminal cases, and many practitioners are now exercising that right to file criminal complaints against the former dictator.
(Clearwisdom)
66 total views