Falun Gong (also known as Falun Dafa) practitioners held activities in three southern German cities and towns on May 28, 2016, to introduce Falun Gong and raise awareness about the persecution in China. It is a part of their recent efforts throughout Germany to raise awareness in many areas, including small towns.
Heidenheim an der Brenz: Chinese Couple Spiritually Supports Falun Gong
Falun Gong practitioners held activities on Eugen-Jaekle Square in downtown Heidenheim an der Brenz, Baden-Wurttemberg, Germany. They exposed the Chinese Communist Party's (CCP) persecution of Falun Gong.
A retired civil engineer and his wife watched the practitioners exercise demonstration, and listened to a practitioner's explanation of the practice. The wife asked why Falun Gong was persecuted in China. The practitioner told her that the CCP promotes violence and lies, and wants to control all people, including their thoughts. Falun Gong practitioners follow the principle Truthfulness-Compassion-Forbearance. There were a large number of practitioners practicing the exercises in parks. The former Chinese dictator Jiang Zemin initiated the persecution out of jealousy. The couple understood and left with information materials.
A young girl and an older man, who were reading the banner exposing the CCP's live organ harvesting, along with other banners describing the CCP's brutality. They were shocked after learning about these crimes. They also read the posters and information materials.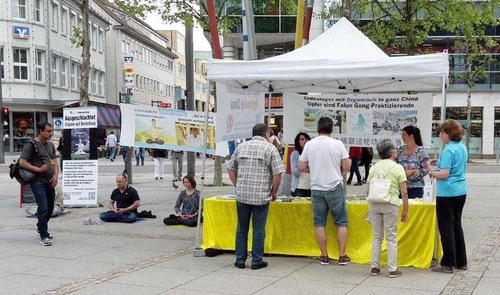 A Chinese couple with a stroller passed by. Practitioner Anja talked with them, and advised them to withdraw their memberships from the CCP and its affiliated organizations. The man said, "I know about Falun Gong and admire the practitioners for their perseverance. I support them spiritually."
Anja gave a paper-folded lotus flower to their daughter in stroller. The girl smiled. The man said he was fortunate to get the information, as his fellow countrymen in China cannot. He said before left, "Thank you for your efforts in helping the Chinese people."
Wueburzrg: Raising Awareness at the Africa Festival
Falun Gong practitioners participate in the Africa Festival in Wuzerzburg every year. They set up an information booth, demonstrate the exercises, set up posters, and hang banners to inform people about Falun Gong and expose the persecution. Many visitors pause to read the information, and many signed the petition opposing the persecution.
Practitioner Yonas, whose ethnic origin is Africa, goes with his family to Wuzerzburg every year, from Nuremberg, over 60 miles away, to participate in the event. He hopes that through his efforts, more people will learn about Falun Gong and become aware of the persecution.
During the festival, 18-year-old Nathan Dombrowski expressed his concern about the persecution in China. He signed the petition condemning the CCP's live organ harvesting crimes.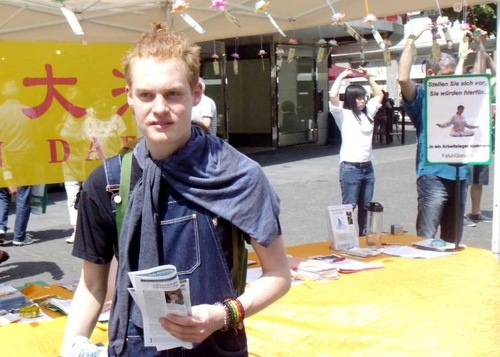 Munich: Chinese Tourist Helps Others Withdraw From the CCP
Falun Gong practitioners in Munich set up their venue in Isartor, where Chinese tourists stepped off their tour coaches. The practitioners demonstrated the exercises. Many tourists accepted informational materials. Some encouraged the practitioners.
When asked to quit the CCP, a tourist from Sichuan said, "I have known about this for long time. I quit the Party. I also help others to withdraw from it."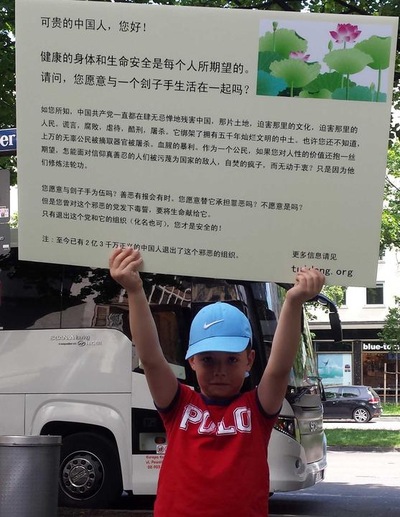 (Clearwisdom)
10 total views