May 10, 2016 | Practitioners in Sydney, Australia gathered at Hyde Park in central Sydney on May 7, 2016, to celebrate the upcoming 17th anniversary of World Falun Dafa Day on May 13. They also wished Mr. Li Hongzhi, the founder of Falun Dafa, a happy birthday.
The event started in the morning with a group practice in the park, followed by a march in the afternoon led by the Divine Land Marching Band. Members of Parliament (MPs), city councilors, and human rights advocates joined in the activities, and they thanked practitioners for their contributions to the community.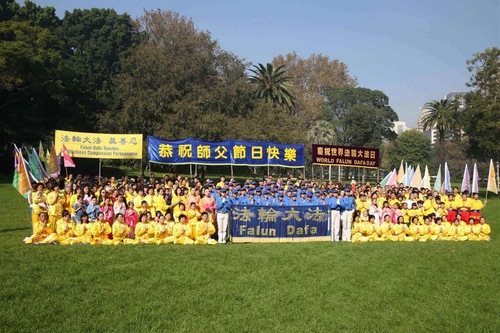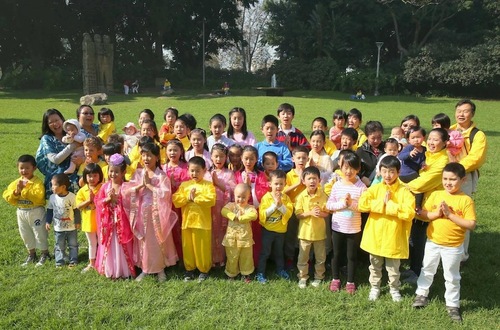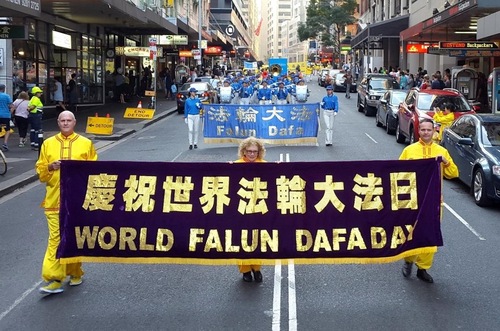 Benefiting Society
Craig Kelly, member of the Australian House of Representatives, said that Falun Dafa is a peaceful meditation group that benefits society in many ways. He said that instead of suppressing Falun Dafa, the Chinese regime should accept the group, and provide encouragement and support. By doing so, he felt that China would become a better and stronger country.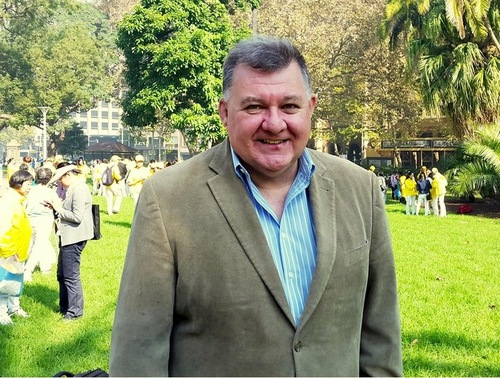 Parramatta City Councilor James Shaw joined the practitioners for the march, "I come here for support because the Falun Dafa group has been a great member of the community." He said practitioners follow the principles of Truthfulness-Compassion-Forbearance, something that both benefits themselves and helps build a better society.
Andrew Wilson, another Parramatta City Council Councilor, congratulated practitioners on the 17th World Falun Dafa Day. He said many Australian have learned about the persecution in China, including organ harvesting from living Falun Dafa practitioners. One example is Human Harvest: China's Illegal Organ Trade, a documentary that received the Peabody Award and aired on national television SBS in Australia on April 7, 2015. He said when innocent people are persecuted, it is especially important for government officials to step forward to support these people.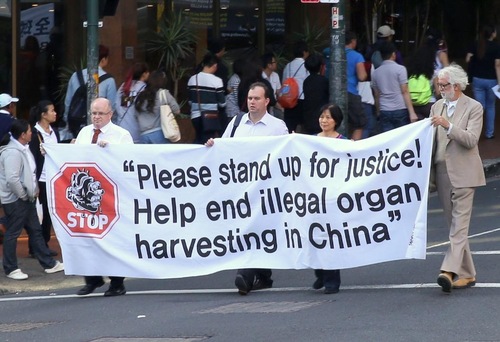 Human rights advocate Bob Vinnicombe also came to the event. He said the Chinese regime has threatened many people to remain silent regarding the human rights violations in China. On the other hand, slave labor and forced organ harvesting from living Falun Dafa practitioners continues in China. He hopes more will join the efforts to expose the brutality of the Chinese Communist Party (CCP) so that the atrocities could soon end.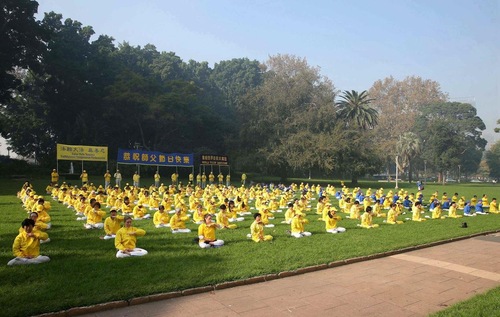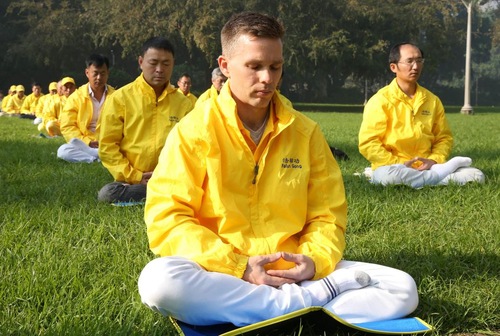 Improvement in Life
Nicholas Eaik, who started to practice Falun Dafa two years ago, said the practice has brought him a better life. "I got rid of anxiety and this significantly improved my life, work, and family. Plus, I used to have many questions about life and society, but nobody could answer them." He said fortunately Falun Dafa books were very profound and they explained everything. Another example is quitting smoking, something he had tried many times in the past, but failed at. Miraculously, he was able to stop smoking after starting to practice Falun Dafa.
"When I was a child, I liked to give other people gifts, as the happiness of the recipient often made me happy." He said after learning the principles of Falun Dafa, Truthfulness-Compassion-Forbearance, he felt reconnected with the pure heart he had in his childhood. "To me, the practice of Falun Dafa is the the best journey of my life."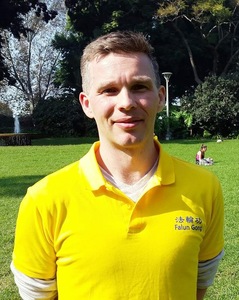 Tian started to practice Falun Dafa three years ago. She felt fortunate to learn Falun Dafa. "Little by little, I learned how to improve myself, and how to look inward and do better. That kind of peace and happiness is beyond words, because it makes the world around you wonderful."
Hope for the Future
Local resident Karla Heggie said she liked the march very much. "I have seen all types of marches and parades in Sydney, but this is one that is unique." She said it tells spectators about the suppression in China while relaying a message of beauty and "a hope for the future."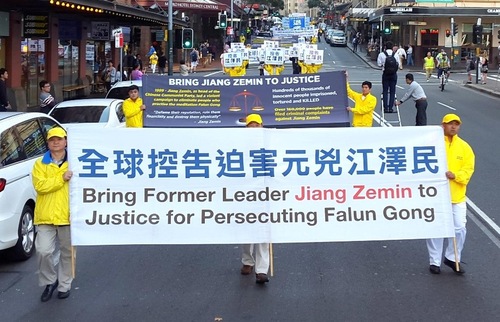 Cara said it is astonishing to hear about the severe human rights violations in China. Organ harvesting, in particular, should not have occurred in the first place.
"I hope everyone in the world can know about this practice, because it will bring them a bright future," she added.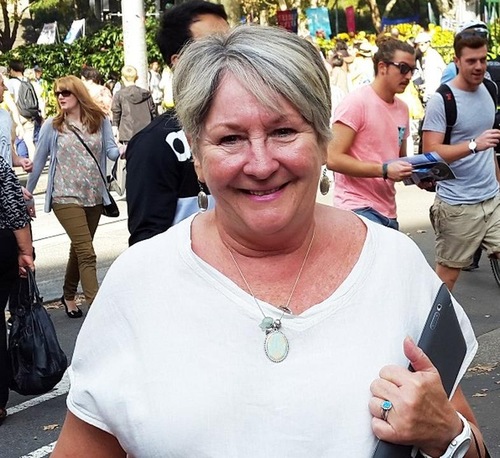 (Clearwisdom)