May 28, 2016 |  At least 1,685 incidents of harassment, arrests, and detention targeting Falun Gong practitioners for their spiritual belief occurred in Hebei Province in 2015.
Types of Persecution
The 1,685 incidents involve 901 cases of harassment, 462 arrests with same-day release, and another 322 arrests with longer periods of detention.
The police often harassed the practitioners at their homes or workplaces. In some cases, police or government officials forcibly took practitioners to government buildings and threatened them to give up practicing Falun Gong, sometimes with termination of their or their family members' jobs or schooling.
While harassing or arresting the practitioners, officers often ransacked their homes as well, confiscating their Falun Gong-related books, flyers, computers and other personal belongings and valuable items.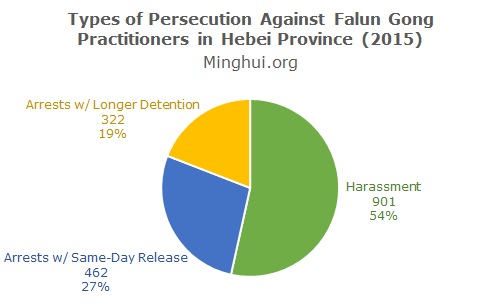 Persecution Intensifies After May 2015
From January to May, there were between 24 and 39 cases of persecution each month except for one. There was a spike in March at 61, as the police increased harassment and arrests when the International Olympic Committee visited the city of Zhangjiakou to evaluate its eligibility for the 2022 Winter Games.
A significant increase in persecution cases occurred beginning in June, after practitioners began filing criminal complaints asking China's highest prosecution office and court to prosecute the former Communist Party leader Jiang Zemin.
Of note, the practitioners targeted for suing Jiang Zemin account for nearly half of the total incidents (47.4%, 799). In addition, 271 practitioners were persecuted for distributing informational materials about Falun Gong. Another 615 incidents were the result of practitioners simply being on police blacklists; many of them were targeted around the regime's politically "sensitive days."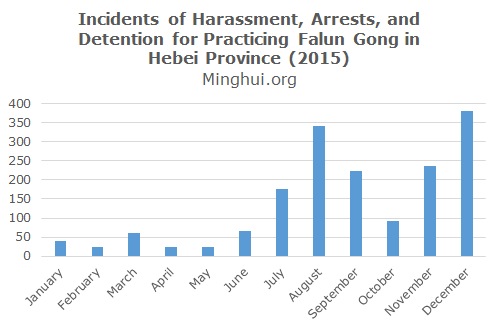 Retaliation for Suing Jiang Zemin
In May 2015, in response to the Supreme People's Court's new regulation stipulating that all criminal complaints must be registered with the court once received, Falun Gong practitioners around the world began to file criminal complaints against the former Communist regime leader Jiang Zemin for launching the persecution of Falun Gong.
Thousands of residents from Hebei Province filed such complaints, triggering police retaliation.
Since July 1, 2015, post offices in Anping County were pressured by police not to mail practitioners' criminal complaints, but to turn the mail over to police instead.
In the city of Shijiazhuang, Ms. Zhou Jinghua's son kept receiving harassing phone calls from their residential committee, telling him that Ms. Zhou's filing the criminal complaint was a "very serious matter, and she would be arrested and sentenced to prison if she didn't stop such activities."
Another Falun Gong practitioner, Mr. Wang Xinyu, was arrested on June 13, soon after he filed a criminal complaint against Jiang for torture and imprisonment. Mr. Wang started a hunger strike to protest his subsequent illegal detention. The police did not release him until he was in critical condition.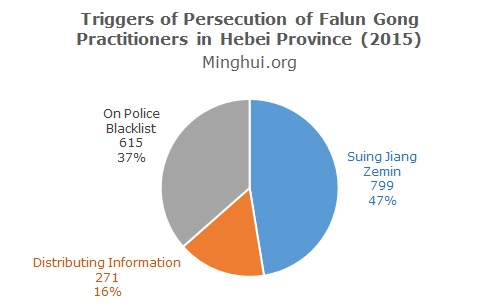 Physical Abuse and Torture
In some cases, the police tortured practitioners who filed complaints against Jiang.
Three women from Huaian County, Ms. Wang Shufang, Ms. Li Shufang, and Ms. Li Xiulin, were arrested on August 6 at the police department for arguing with officers about their intercepted mail to the Supreme People's Procuratorate.
The police savagely beat them and tied them to a "tiger bench," on which a victim's legs are tied down with belts, and bricks (or other hard objects) are added under the victim's feet until the belts break.
Ms. Wang Shufang's body was covered with bruises, and her left ear was bleeding. She was released that evening after hours of torture.
An officer struck Ms. Li Xiulin's chest twice, causing her to suffer a heart attack and convulsions. After she recovered, she was not allowed to use the restroom and was forced to relieve herself on the floor. Officers then splashed the urine on her head. She was released on the sixth day, after she developed hypertension and heart problems.
The third woman, Ms. Li Shufang, was detained for 15 days after officers forcibly took a blood sample from her.
Harassed During Winter Olympics Evaluation
Many Falun Gong practitioners are often harassed around the communist regime's politically sensitive days and major events.
In the city of Zhangjiakou, two weeks before the scheduled evaluation by the International Olympic Committee to determine the city's eligibility for the 2022 Winter Games, staff from residential committees visited every practitioner at home. In addition to the harassment and threats, they attempted to force each practitioner to turn in their IDs and restricted them from traveling out of town during that period.
One practitioner's grandchild was asked to leave school and monitor the practitioner at home.
Persecuted for Distributing Information
In the past 17 years, Falun Gong practitioners have counteracted the persecution by peacefully distributing informational materials or talking to people about the abuses. While most of the public accepted materials from them, some reported them to the police.
While four practitioners from Tangshan were talking to people about the persecution on the street on July 24, they were reported to the police and arrested. When their family members went to the police station to demand their release, the police also arrested and detained them overnight. One person was beaten by officers when trying to argue about the legality of the detention. All four practitioners were detained for 15 days before release.
A practitioner couple, Mr. Ma Yongxiao and Ms. Du Likun, were arrested while distributing materials about Falun Gong on January 28, 2015. The police ransacked their home and sent them to the Domestic Security Division.
The head of the local Domestic Security Division extorted 10,000 yuan from Mr. Ma's parents that evening before releasing him. They asked for another 7,000 yuan for the release of Ms. Du.
When Mr. Ma's father went back to the Domestic Security Division with 7,000 yuan to secure the release of his daughter-in-law on the next day, the police refused to release her, but instead asked for more money.
(Clearwisdom)
10 total views