Falun Gong practitioners who were part of the Divine Land Marching Band participated for the fourth time in the 102nd Picnic Day Parade held on the campus of University of California, Davis, on April 16, 2016.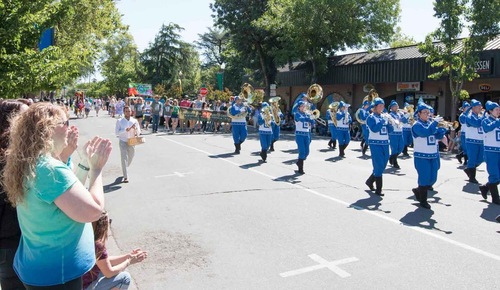 As one of the largest community events in Sacramento, the parade and the following music shows, expos, and picnic activities attract more than 100,000 people each year.
The performance by the Divine Land Marching Band were warmly welcomed by spectators. Many Chinese were surprised and happy to see Falun Gong, a practice that has been banned and persecuted in China.
Ms. Zu from Beijing said, "I like their music. I've never seen a Falun Gong group before. Their performance is great, great, and great!"
Ms. Zu's friend Ms. Xie is a visiting scholar at UC Davis. She said, "Falun Gong's band is very eye-catching. I saw them before I saw the other groups. Their performances are amazing. I like their costumes and the music."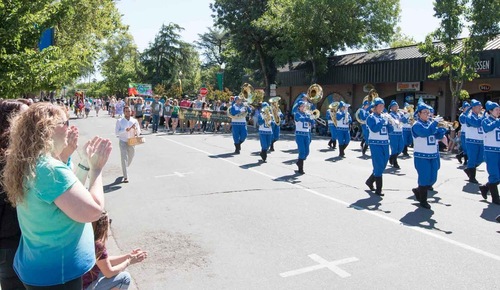 Westerners, too, liked the band's costumes and music. Bobbi, a student at UC Davis, said that she admires the teachings of Falun Gong—"Truthfulness, Compassion, Forbearance."
"I believe that everybody should follow this teaching. The persecution of Falun Gong in China is unjustified. People should have freedom of belief."
Otia, who videotaped the band's performances, echoed Bobbi, "The persecution is definitely wrong. It is great that they can participate in the parade here in California, and freely practice their belief. People should help them to fight for their rights and right the wrongs."
(Clearwisdom)