Practitioners and supporters of Falun Gong held a rally in Sydney at Martin Place, one week before Australian Prime Minister Malcolm Turnbull's first visit to China on April 14-15, 2016. They are calling upon him to bring up the Chinese regime's human rights violations and ask the Chinese government to stop the 17-year persecution of Falun Gong.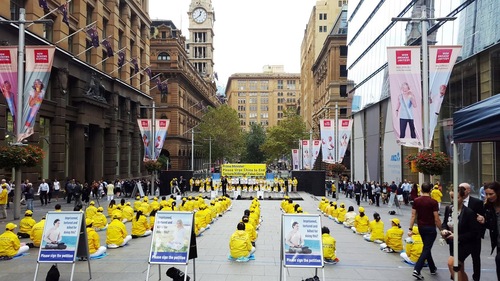 Falun Gong Association President Dr. Lucy Zhao said, "We welcome Australia's growth and prosperity and engagement with China. At the same time, we urge the Prime Minister to not ignore the fact that millions of Falun Gong practitioners continue to endure persecution and torture at the hands of China's communist regime. This is an opportunity to strengthen the relationship of the two countries."
Practitioners collected 3,400 signatures at the event, calling for an end to the persecution of Falun Gong in China.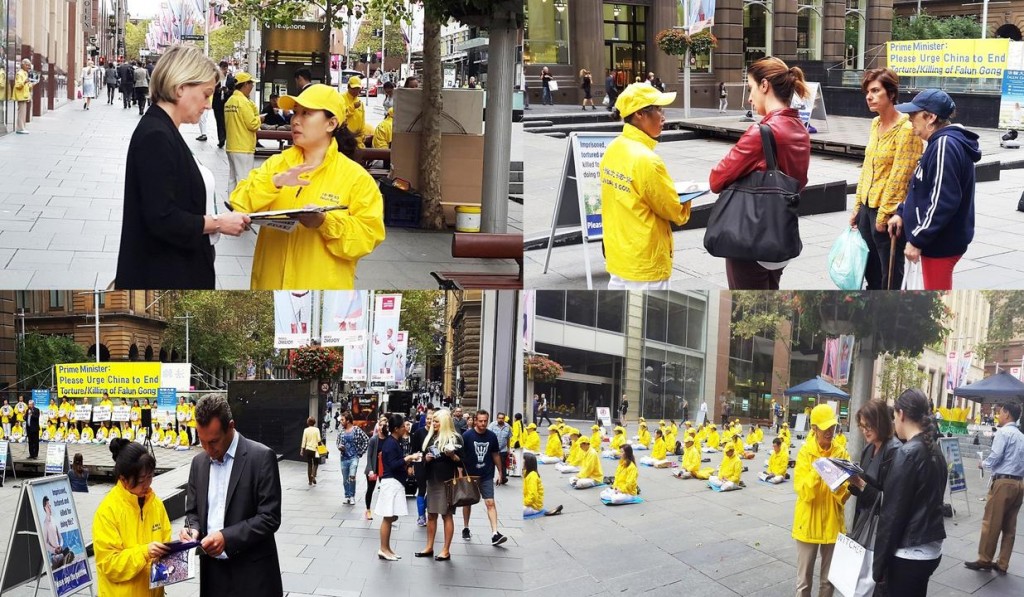 Mr. Shoebridge condemned the state-sanctioned harvesting of organs from living Falun Gong practitioners in China, and assured practitioners sitting behind him that Australians will help to rescue their imprisoned family members.
He added that freedom of belief is a basic and global human right, that no government should deprive its citizens of that freedom, and that Australia, as an independent country, should bring up the issue of human rights violations to China.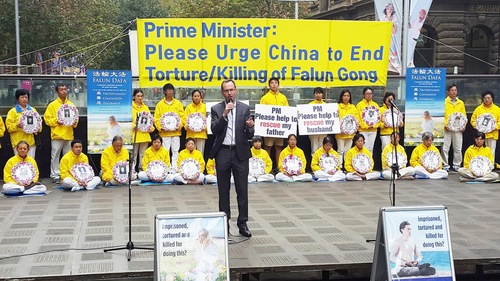 Mr. Tri Vo, President of the Vietnamese Community in Australia, Ms. Tenzin Kunsel and Mr Tsering Dorjee Tsang from the Tibetan Community in New South Wales, and Bob Vinnicombe, a human rights activist also called upon the Australian government not to sacrifice lives and human rights for economic development.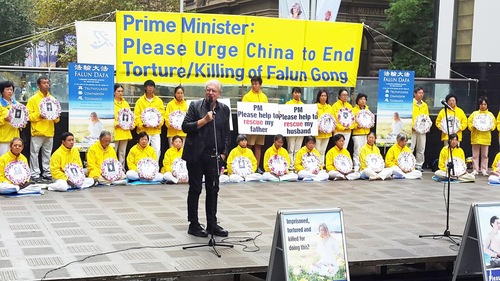 Two Falun Gong practitioners at the rally talked about their family members' experiences of being tortured in China.
The father of 17-year old Eric Jia, Ye Jia, has been imprisoned for over 8 years; before that, his family endured constant harassment and abuse by the Chinese authorities. Eric moved to Australia in 2012 with his mother to escape the persecution.
"We miss him so much. I can no longer remember his voice. We are deeply worried about him but feel completely helpless and desperate as there is so little we can do for him," he wrote in his personal letter to the Prime Minister, which he will deliver in person before Mr. Turnbull leaves for China.
Li Qizhong's sister was arrested last February in Shanghai, and in March 2016 she was sentenced to 16 months in prison. Li Qizhong hopes that the Prime Minister will help to rescue her.
Many passersby were shocked by the brutal persecution.
Shanaye said that Eric's speech deeply touched her. She is disappointed with the Chinese government. "How can they treat their own people like that?" she said, and added that she hopes the Prime Minister would bring back good news from China.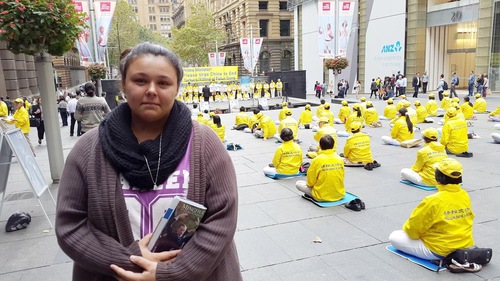 Professor Smith signed the petition and took more materials for his friends. He has observed Falun Gong for years. "They are a group of very nice people," he said.
He believes that Falun Gong is rooted in profound, traditional Chinese culture. He commented that it is encouraging to see a group of peaceful people doing meditation there.
Prof. Smith hopes that the world can learn some wisdom from Chinese culture, and that Falun Gong is a good example of this culture and is the hope of China.
He said the Australian Prime Minister should prioritize spiritual values over material interests, because it is his responsibility.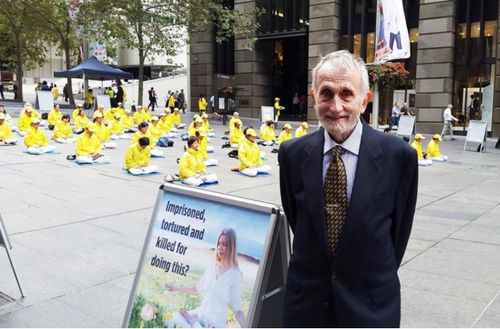 John Wertheim, a local businessman, said he cannot believe a peaceful meditation group is being persecuted in China.
He said, "I often go to Hong Kong for business. I already see China's rule over Hong Kong. We're lucky to live in a free country. If the government has problems, we can voice our opinions. Now Chinese people don't have beliefs. They only believe in money."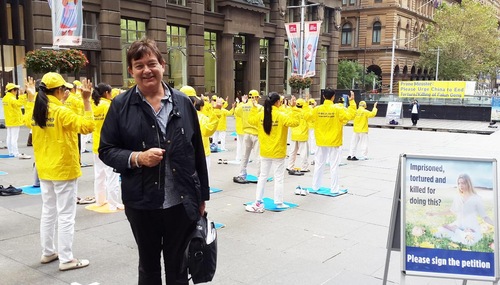 (Clearwisdom)
18 total views