Falun Dafa practitioners in Bulgaria observed International Human Rights Day on December 10, 2015 by collecting signatures on a petition demanding that former Chinese dictator Jiang Zemin be held accountable for initiating the persecution of Falun Gong.
They also held a documentary screening and a peaceful protest outside the Chinese Embassy in Bulgaria.
Signatures were collected in the major Bulgarian cities of Sofia, Plovdiv, Varna, Stara Zagora, and Pazardjik, with a total combined population of over two million. The petition, an official "criminal report form" addressed to the Supreme Court of the People's Republic of China, calls for bringing former Party leader Jiang Zemin to justice for persecuting Falun Gong.
Over 500 Bulgarian citizens signed the petition on December 10 after learning about the persecution in China. The petition drive was held in over ten cities in Bulgaria, and has gathered nearly 3,000 signatures so far.
Also on December 10, a dozen practitioners stood in peaceful protest outside the Chinese Embassy in the capital city of Sofia. Their banners read, "End the Persecution of Falun Dafa," and "End the Forced Organ Harvesting."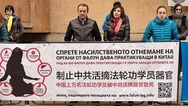 Practitioners screened the documentary "Transcending Fear" in the cities of Sofia, Plovdiv, and Varna.
The documentary tells about the life and work of Chinese human rights defender, lawyer Gao Zhisheng. He has been repeatedly arrested and tortured for his human rights efforts, including speaking out against the persecution of Falun Dafa in China. For his brave efforts, Gao has received numerous awards and was twice nominated for the Nobel Peace Prize.
(Clearwisdom)