Germany: Forced Organ Harvesting in China Highlighted in Parliament Hearing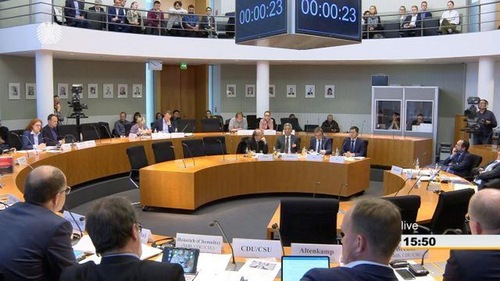 On May 8, 2019, the German Bundestag's Committee on Human Rights and Humanitarian Aid held a public hearing on the persecution of religious minorities in China.
More than 20 Members of the Bundestag (MdB) attended the hearing, which included experts from NGOs, representatives of minority groups, and scholars.
David Li, a researcher with China Organ Harvest Research Centre (COHRC), was invited to introduce the center's findings.
Mr. Li relayed, "Unlike the black market organ trafficking in other countries in the world, the Chinese Communist Party's (CCP's) on-demand forced organ harvesting from prisoners of conscience is sanctioned by the government, industrialised, and implemented by the military and local government agencies.
"It is one of the most hideous human rights disasters of the 21st century," he said.
During the hearing, Falun Gong practitioners from Germany held activities outside the Reichstag building to inform people about the persecution in China.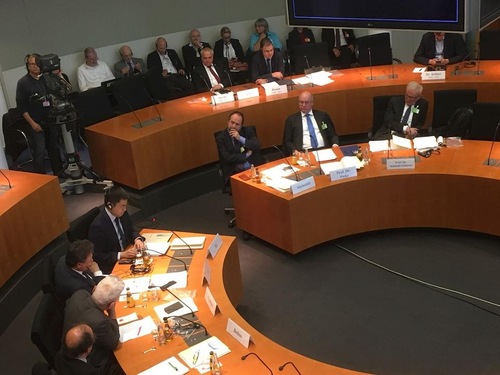 A CCP-Controlled Killing System
The persecution of Falun Gong was initiated by former Chinese Communist Party leader Jiang Zemin. Both data and examples of the brutalities perpetrated against targeted populations by the Chinese government shocked hearing attendees.
According to COHRC, in China, where an organ donation system is almost non-existent, the organ transplant industry has flourished since 2000.
In 2006, whistleblowers first alleged that the CCP was harvesting organs from detained Falun Gong practitioners and other prisoners of conscience.
International human rights activists and experts subsequently launched a series of independent investigations.
Mr. Li said in his testimony that based on minimum bed count requirements stipulated by the former Ministry of Health in China, the 169 hospitals that were approved for organ transplantation by the Ministry would have the capacity to conduct 70,000 transplants per year. However, most hospitals were operating with far more than the minimum capacity, and some bed utilisation rates exceeded 100%.
COHRC concluded that the actual number of organ transplants performed in China is much higher than the official figure of 10,000 to 15,000 per year.
Casting further doubt on the ethics of China's transplant system is that overseas media and investigators have contacted various organ transplant hospitals that quoted wait times of only a few days or weeks for a matching organ instead of years, as in other countries with established donation systems.
When an MdB asked about the main targets of forced organ harvesting in China, Mr. Li pointed out that they were mainly prisoners of conscience and other detainees. Falun Gong practitioners comprise the largest population of prisoners of conscience in China's extensive detention system.


Human Rights Organisation Chairman: Falun Gong Practitioners Under Severe Persecution
Ulrich Delius, Chairman of the Society for Threatened Peoples International – Germany, was also invited to testify at the hearing.
He stated that Falun Gong practitioners have been brutally persecuted in China for 20 years and that at least 4,300 people are documented to have been persecuted to death in China for practicing Falun Gong.
Mr. Delius, an expert on Asian issues, has written many reports on the persecution of Falun Gong in China. He also personally went to China to conduct an investigation.
As part of his research, he wanted to find out who actually practiced Falun Gong in China. He found that Falun Gong practitioners were ordinary people, including many elderly women who feel that they've benefited from the practice.
The communist regime has repeatedly detained such people and attempted to force them to give up their faith.
Delius concluded that whether the CCP targets Falun Gong, Tibetans or Uighurs, its goal is the same; that is, to persecute those who seek to live their lives based on faith-based belief. He believes that the Chinese regime is concerned that they cannot control people's minds.


Practitioners Call for an End to the Persecution
On the day of the hearing, May 8, Falun Gong practitioners held activities outside the Reichstag building.
They did the Falun Gong exercises, distributed information about the spiritual practice and the persecution, and collected signatures on a petition calling for an end to the atrocities perpetrated by the Chinese regime.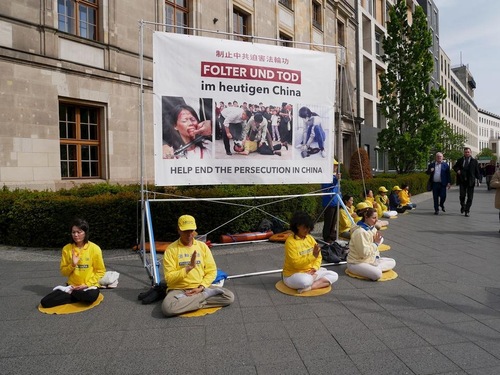 Mr. Tian and his wife, nearly seventy years old, currently live in Berlin. They left China to avoid the ongoing persecution of Falun Gong. The couple hopes that the German government will pressure the CCP to stop the forced organ harvesting and end the persecution as soon as possible.
Their son, Tian Shichen, was taken from his workplace in China for practicing Falun Gong and died soon afterward. The family suspects that their son had been poisoned by the authorities.
A Member of the Bundestag and his assistant from the ruling party stopped by the Falun Gong display to learn more about the persecution. They signed the petition calling for an end to the suppression of Falun Gong.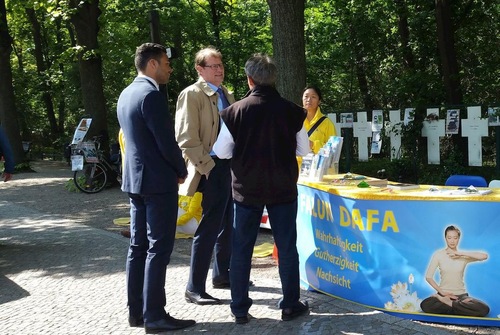 Ronald Gläser, a Berlin city council member, came to the Falun Gong event to express his support. Mr. Gläser said, "The CCP's persecution of Falun Gong practitioners is a very important topic, and legislators must pay attention."
(Clearwisdom)
(Visited 22 times, 1 visits today)