Czech Parliament Member: Truth Will Prevail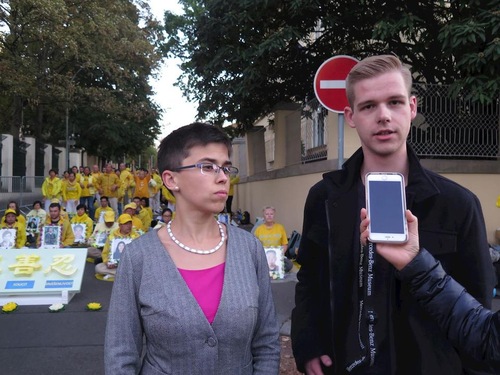 Member of Parliament Olga Richterová said, in front of the Chinese embassy in Prague, "I was impressed by the very peaceful atmosphere as I walked by all these sitting protesters. I realised how unusual it was for me to see so many people with so much quiet concentration. I really think about why they were here, why they were sitting here, and what they wanted to show to the world."
Dr. Richterová explained that she joined the rally because she wanted to help raise awareness about Falun Gong practitioners being killed for their organs.
She continued saying, "I think one of the steps we can take is to describe our memory of today to the Foreign Minister." She said that she would propose a meeting with the Foreign Minister and representatives of Falun Gong.
"This is the most peaceful gathering I attended in many, many… in a long time," said František Kopřiva, Member of the Chamber of Deputies who also attended the rally in front of the Chinese embassy on September 27.
He continued by saying, "Falun Gong is a peaceful organisation established for people who just want to do what they believe in. It's totally apolitical and peaceful, and I really feel the need to support them because I think that it's horrible that the Chinese regime takes it like an offense, just the existence of Falun Gong. I don't get it actually."
He said, "I think this is good step to really tell all Czechs: Hey! there's a serious problem in China, and it's getting worse and worse. Maybe our governments can be more active about it, say something to the Chinese regime and talk about it, and not close our eyes because of these economic relations or economic diplomacy. It's actually an issue of the Czech government's relationship with the Chinese government."
He offered his encouragement to those persecuted in China by saying, "Don't give up! The worst that can happen I think in the public or in society is to let the fear paralyze you."
Dr. Richterová added, "To put it succinctly, there is a saying which we have found in our flag: 'The truth will prevail.'"
(Visited 28 times, 1 visits today)