Flushing, New York: Falun Dafa Group Welcomed in Chinese New Year Parade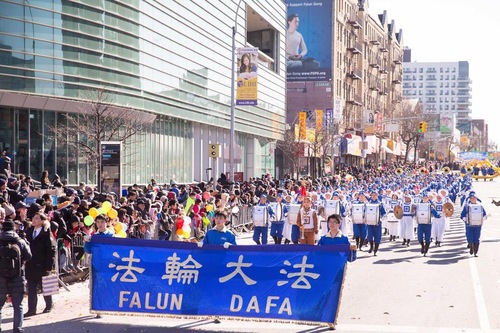 During the annual Chinese New Year Parade on February 4, 2017 in Flushing, New York, local resident Yu Chunguang said after seeing the Falun Dafa contingent, "A community fist needs peace, which will then lead to economic development. I think the Falun Dafa group has contributed a lot to our local social order and prosperity."
About 100 groups participated in the parade, which had more than 100,000 spectators. Many spectators were impressed by Falun Dafa performance. Consisting of nearly 500 practitioners, the Falun Dafa group was led by the Tian Guo Marching Band and dragon dance, followed by heavenly girls, flag dance, and the waist drum team.
Mr. Yu, a long-time resident of Queens, has attended the parade for several years. He said, "The principles of Truthfulness-Compassion-Forbearance are powerful, because they provide us with warmth, stability, and hope." He said he was glad that the practitioners were met with cheers and smiles along the parade route.
Upon seeing the only Chinese marching band in the parade, many onlookers said that they liked the melodies and the energy of music played by the Tian Guo Marching Band. One spectator commented,"This is the most beautiful and pure music I have ever heard."
Tang Zhi, vice president of a healthcare product company, immigrated to the United States five years ago. He said that the Chinese community in Flushing used to be separated and it was Falun Dafa practitioners who brought positive changes during the past few years.
Having lived in China for decades, he said that the most important thing for Chinese, regardless of being in China or the U.S., is the moral standard. He said, "I am happy that Falun Dafa and its practitioners have played a leading role in improving morality. This is very important for all of us."
(Visited 149 times, 1 visits today)