Members of Parliament Speak Up for Falun Gong During China-Australia Free Trade Talks (Photos)
Several Australian Members of Parliament (MP) joined a rally outside Parliament House in Canberra, where the China-Australia free trade talks were held a day after the G20 Leaders' Summit concluded.
The rally called for an immediate end to the persecution, especially state-sanctioned forced organ harvesting from living Falun Gong practitioners.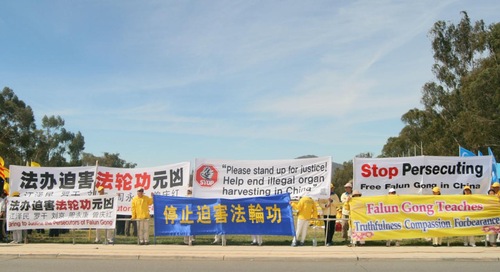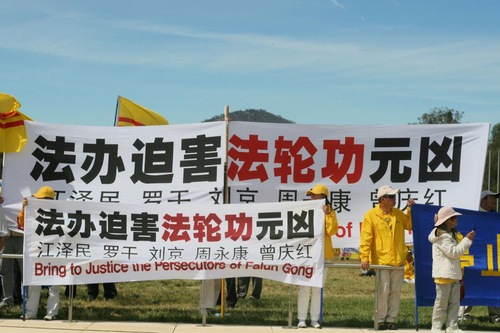 Falun Gong practitioners rally at Parliament Hill on November 17, 2014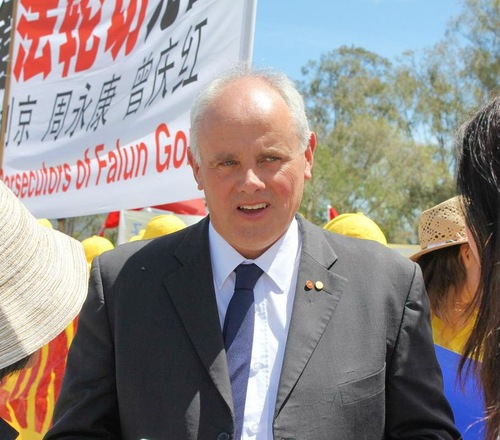 Independent Senator John Madigan speaks at the rally on Parliament Hill on November 17, 2014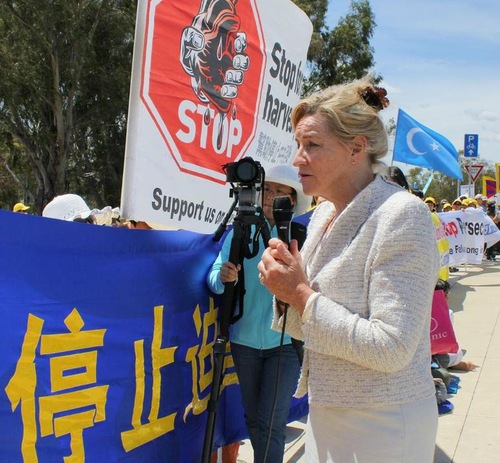 House Representative Alannah MacTiernan speaks at the rally on Parliament Hill on November 17, 2014
Trade Must Be Based on Morality and Conscience
Independent Senator John Madigan pointed out that trade must be based on morality and conscience in order to have a positive impact on society. He said that because the economy exists for mankind, trade must first answer to basic human rights.
When talking about the Chinese regime's persecution of Falun Gong, including forced organ harvesting, Madigan asked Prime Minister Tony Abbott, "Why is this issue not part of our discussions with China?"
"I welcome practitioners of Falun Gong. Around the world you continue to campaign against religious persecution and the practice of forced organ harvesting in China," said Madigan in his speech.
He recalled that last year, the senate passed a bill urging Beijing to stop live organ harvesting, but the crime didn't slow down, and the victims were mostly Falun Gong practitioners.
"But every human life matters. Every human life has value. I welcome you all here today. I wish you well with your protest. I urge you to continue your struggle," Madigan said.
"I Can't Just Turn a Blind Eye"
Madigan believes that the Australian government values trade with Beijing more than human life and calls it an act of shortsightedness.
"How do you reconcile that some people are locked up because the government doesn't agree with them or their observances, and then go about saying that they can make an argument for or justify taking a person's kidney or lungs, and just commodify people's lives and their organs?"
"Some people say it's okay to turn a blind eye to something, but what if it were your brother, your father, sister, uncle, cousin, or your best friend? If the world is degenerating to that point, where we can just rationalize things away, out of sight and out of mind….even if he is a prisoner, every person has inherent dignity."
"I can't just turn a blind eye. Because to do that, you are complacent. And once again, there is big money involved in [organ harvesting]. If that is what it takes to make money, I don't want to be a part of it," said Madigan.
Falun Gong Benefits Chinese Society
Alannah MacTiernan is a member of the Australian House of Representatives for Perth. She pointed out that Falun Gong brings society harmony and blessings, and that lifting the ban on Falun Gong would benefit Chinese society.
MacTiernan said at the rally, "We will join you in your plea to ensure that this increasing tolerance emerging in China extends to the Falun Gong practitioners in China."
"I deeply believe the practitioners of Falun Gong only wish the best for the Chinese community. Your practice will be positive for China, as we see this in Australia. We have this lesson to learn, we know by embracing diversity that, indeed, we make our nation stronger. When we ensure that sense of nationhood, our national identity is enhanced."
"We want to say that we understand Falun Gong's position, and understand your concerns which you have over time been persecuted, but we are confident and hopeful that the new regime of China will be embracing this diversity, ensuring that your practice is allowed to flourish and bring good to the Chinese community."
Joe Bullock, Labor Senator for Western Australia in the Parliament, wrote a letter to the Falun Dafa Association. Senator Bullock expressed his concern over forced organ harvesting from living practitioners in China and said he hoped that the practitioners could take this opportunity to expose the issue to the public.
Green Party Holds Human Rights Forum on the Persecution
When Chinese President Xi Jinping gave a speech at the Australian Parliament, the Green Party simultaneously held a forum on human rights in China. Representatives of Falun Gong, Tibet, democracy activists, and the Xinjiang Autonomous Region were invited to the forum.
Senator and parliament leader of the Greens, Christine Milne, said, "The Australian Greens remain extremely concerned about continued human rights violations and the slow progress of democratic reform in the People's Republic of China."
"In particular, we condemn the ongoing persecution of Falun Dafa practitioners, which should be likewise acknowledged and condemned by the Australian government."
Why Speak Up?
At the rally, Senator Madigan was asked why he chose to join the rally and speak up. He replied, "It's just that you can't be complacent by your silence. People tell me often, 'now is not the right time.' Well, when is the right time? Throughout history, there have been some people who sit on their hands, good people who sit on their hands."
"'All that's needed for evil to triumph is for good people to sit back and do nothing, and then history will judge you'…. At the end of the day, I want to be able to go home at night and have a clear conscience. I don't want to see anybody, from the unborn to the living, to the elderly or infants, have their human rights violated. I value every life. Every life is precious, and every life should be defended."
"I can remember once I was doing a job in Melbourne, and the Chinese consulate was up the road. I remember seeing a couple of older ladies there, up at the front. What I noted was they were so peaceful and quiet."
"They were just expressing a point of view, and I can see how annoyed the officials of the consulate were because they were out there, out on the street in Australia, but everybody is entitled to express their view, whether they like it or not."
"Those people have the right to express their opinion, and I will defend their right to express their view without fear of persecution."
Leave a Comment
You must be logged in to post a comment.